---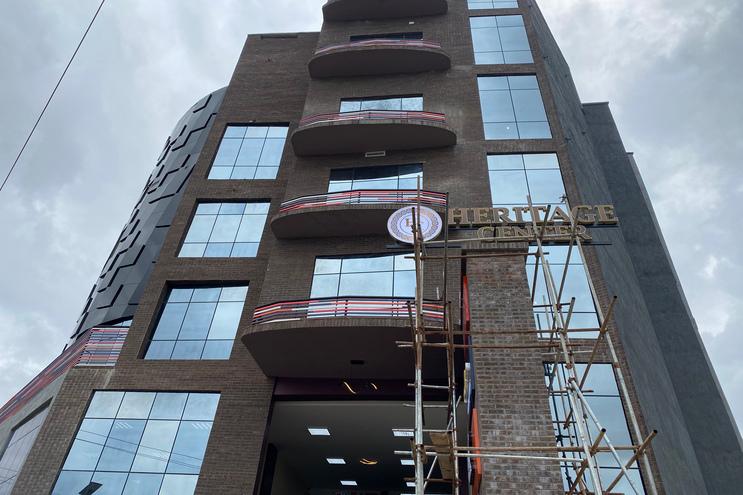 Heritage Center, a new mall along Ifako-Ijaiye road, is set to open a new cinema in Agege, years after the area ceased to be a theatre hub with the likes of Pen-Cinema.
This six-storey mall is not just a movie viewing space; it aims to be one-stop for all your needs. It has a shopping store, a cinema, a restaurant, a lounge and a game arcade. However, the game arcade is not fully operational.
According to the mall's management, there are plans to have a pharmacy and a diagnostic facility in the mall.
Heritage Center's Head of Business and Marketing, Mr. Ayo Fanodun and the Head of Human Resources, Mr. Mautin Oke spoke to Ikeja Record's Omon Okhuevbie about the mall, its unique selling point, values and what they plan to offer residents within Agege and Ogba axis.
This interview has been edited for clarity and brevity.
Omon Okhuevbie: When was the mall officially opened?
Ayo Fanodun: August 3rd, 2023.
OO: Who is the owner?
AF: This place is owned by a group of investors. They are about eight in total.
OO: Can we know their names?
AF: No, they might not want their names out there.
OO: So, it is a private enterprise?
AF: Yes.
A super mall just opened in Agege. Will you be visiting? #HeritageCentre #IkejaRecord pic.twitter.com/Me40BRexrV

— Ikeja Record (@IkejaRecord) August 31, 2023
OO: How many stores are in the mall currently?
AF: We have Katta superstore; Katta is the supermarket. We have Oyin foods. Oyin foods is on the second floor. On that same floor, we have a game arcade for kids. On that same floor we also have a private lounge owned by an individual; he rented the place. On the third floor are the admin offices for the management. On the left hand side, if you are going out, we have a diagnostic centre but we are still working on that. Then we have the cinema.
OO: Is the cinema running now?
AF: Yes, we will be starting on August 30. There will be a free viewing for all and sundry then. Then after the 30th, you will start paying. August 30 is our launching day. We are having a soft launch right now. The promotions are going on, to sensitise the people and create awareness.
OO: All these stores are owned by the mall or different individuals?
AF: Yes. Katta and Oyin foods are owned by the same person. The private lounge is owned by an individual. The diagnostic centre is going to be owned by a group of medical professionals.
OO: How much does it cost to rent out or lease a space in the mall?
AF: So, it is by square metre. It depends on the square metres you are taking. Let's say for example, if a square metre is N35,000, multiply by the number of square metres you will be taking.
OO: Is there still space to let or rent left?
Mr Mautin Oke: No. We are out of space. There is no space available in the building anymore but you can have a stand in our supermarket. For example, if you have a product that you want to display in the store, you can meet our business manager.
OO: What do you think this centre will add to the socioeconomic development of this area?
AF: Let me say 90 percent, or 95 percent of our staff in this facility come from the area. In fact, 98 percent of all the staff working here are from this vicinity. And again, we are going to expand. That simply means that more hands will be needed. And as time goes on, we will still need an expansion, so definitely people around are going to benefit.
OO: What makes this centre unique and different from others?
AF: It is a one-stop shop. I forgot to mention, we have a workstation. So, you can come in the morning, get access to our work station and then maybe you are tired, you want to stretch your body or eat, you can go to Oyin Foods. The name of our eatery is Oyin Foods. If you want to relax after having your meal, you can go to the cinema to have a nice one hour or two. Then you can go back to the workstation to complete your work. When you are done, maybe by 4pm, you can decide to go to Seventh Heaven which is the lounge and it is on the rooftop. When you are done with the lounge, you want to go back home to meet Daddy and Mummy; perhaps you are married, or you have some younger ones at home, you can visit Katta Superstore to get something for the family.
So your 24 hours is fully taken care of. The idea is home away from home. When you are here, we want you to believe that you are also at home. The only difference is that you can't sleep here.
OO: What time does the mall open?
MO: The superstore is open from 8am and closes around 9 to 10pm. For the lounge, it will have a 12am closing time. The cinema closes by 10pm.