---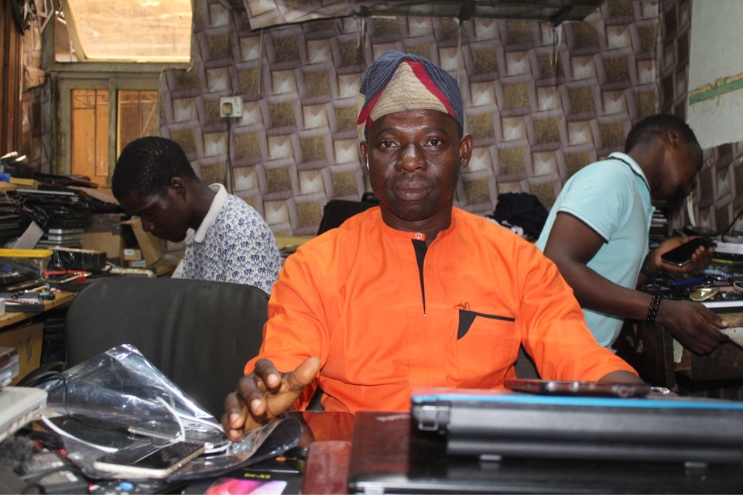 Dada Adeyinka's office in Computer Village is nestled in a nondescript building buzzing with commerce. The passageways are dark, the sound of generators is deafening; people stream in relentlessly wielding electronic parts — the urgency is palpable. Here, time waits for no man.
Mr Adeyinka arrived in Computer Village about 20 years ago. A graduate of Computer Science from the Lagos State Polytechnic, he had dreams of becoming a computer guru.
"It was the passion that drove me," he said in an interview with Ikeja Record one recent afternoon. He was seated on a backless stool in his small shop, old electronic parts lining the wall, his apprentices busy behind him.
Computer Village wasn't always this crowded, he reminisced. "It was actually a residential area. Lots of lawyers used to live here. But then the demand for digital devices and communications gadgets ballooned." And everything changed.
Mr Adeyinka interned with Compu Star Technologies for two years before starting his own computer repair and sales company, Walter Integrated Services, which he runs to this day.
"The growth has been tremendous," he said. "I started when we had Motorola phones. Now, the technology keeps changing, and we have to continue to adapt, to learn new things. I am now learning about cloud technology."
Mr Adeyinka admitted that the business of computer repair and sales in the village can be very lucrative, but it comes with its own challenges, especially when it comes to dealing with customers.
"Some people abandon their devices with us and call us after five years to claim it," he said.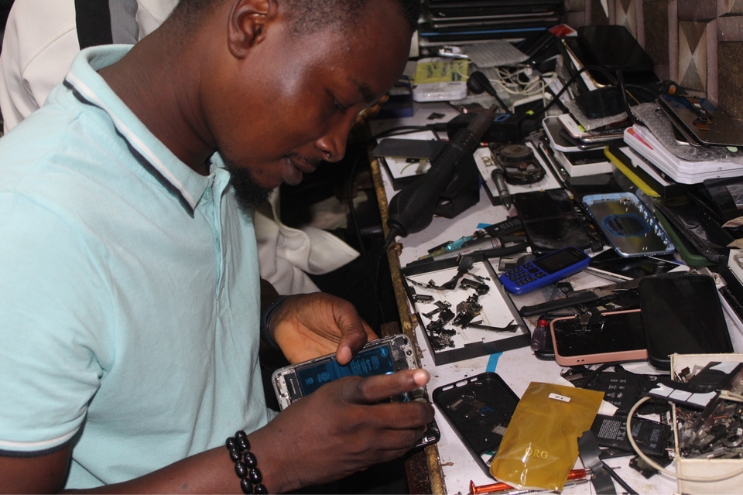 Then there is the issue of organisation, which he believes will help the market's reputation. Computer Village is renowned for hosting fraudsters who cheat customers and peddle fake goods. Mr Adeyinka believes it is a problem that can be solved if there is a database of registered business owners and street-side hustlers are unable to operate.
"People always say they buy bad things in Computer Village, but who are the people you are going to meet there?"
Mr Adeyinka said the market is the largest technology hub in West Africa, noting that computer products are exported in bulk from there to neighboring countries.
"What we need is for the government to pay attention," he said. "Organising the market can even help their tax revenues."
He also wants the government to help with soft loans.
"We don't need grants because you can spend that anyhow," he said. "We need long-term loans that can help us plan.
"This is a business that if you invest N10 million, you can recoup N15 million in six months."
But in the meantime, he is grateful for the opportunity to work in the market. "A lot of lives are being transformed here," he said. "So it's a big opportunity."