---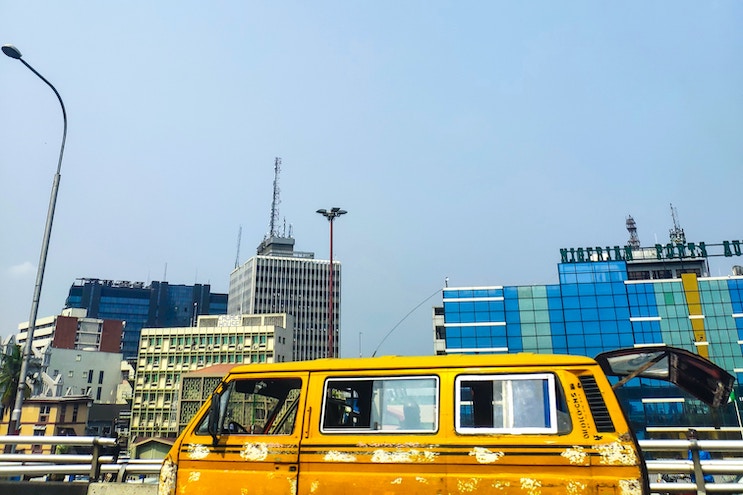 Is it your first time in Lagos? Then maybe you are stunned by the chaotic energy, the crowded streets, the daring yellow buses, the noise pollution everywhere you turn. It's all part of the experience.
As with every large city, it always helps to be aware of major landmarks for ease of navigation. In Lagos, knowledge of bus-stops can come quite handy. While the city has thousands of bus-stops, here are ten of the most trafficked:
Ikeja-underbridge
Ikeja is the political capital of Lagos and located in the heart of the mainland.
There are different popular bus-stops in Ikeja but Underbridge-Ikeja or Ikeja-Underbridge is notable because of its proximity to one of the largest technology markets in Africa, Computer Village. From Ikeja-underbridge, you can locate a bus going to different areas in Ikeja.
But you have to be wary of scammers, pickpockets and young men trying to sell you pink lip balm.
Ojodu-Berger
The Ojodu-Berger or Berger bus-stop as it is popularly called is located at the point of entry to Lagos from the Lagos-Ibadan expressway. It is an assumption that the bus-stop got its name coined from the Julius Berger construction company.
Travellers from other states alight at this popular bus-stop, before taking the next bus to their destination in Lagos. You can always find buses going to different destinations at the park underneath the Berger bridge.
The statue of the Aro Meta, "Three wise men", used to be situated at Ojodu-Berger, just at the entrance of the toll gate in Lagos-Ibadan to welcome visitors as they come into the city. In 2017, the statue was moved to Olowopopo Drive, opposite Michael Otedola Estate due to constant vandalism.
Allen junction
This bus-stop is quite notorious and popular because it connects to the Allen Avenue red-light district, which is famous for its nightlife and women of the night. Allen Avenue is also a commercial hub, where you can find different stores, companies and bank branches.
This bus-stop is in a strategic location with a road network that links to other popular locations like Toyin Street, Opebi, Adeniyi Jones and the seat of power, Alausa.
Ojota
In the 18th century, the present Ojota used to be a military settlement where soldiers practised shooting drills. This place became known as "Oju Ota" which means 'bullet spots' in Yoruba.
Ojota is a crowded bus-stop with a pedestrian bridge. But despite the pedestrian bridge, commuters regularly cross the busy road on foot. There are also a number of inter-state bus-parks in Ojota.
Iyana-Ipaja
Iyana-Ipaja is notorious for its bustling markets and interstate motor parks. Even at night, this bus-stop doesn't sleep. Traders are always at the bus-stop selling wares as late as 11pm, and you will spot them there as early as 5 am on your way to work.
Just as the name implies, Iyana Ipaja in Yoruba means a road to Ipaja town. From the Iyana-Ipaja bus-stop, you can easily access Ipaja, Egbeda, Ayobo, and even Oshodi.
Ojuelegba
This popular bus-stop is one of the most notorious places in Lagos, and famous for being the nurturing ground for Afrobeats superstar, Wizkid.
Ojuelegba has been described as the 'den of the devil' because of the preponderance of late-night armed robberies and fatal accidents on Ojuelegba bridge.
But it is also a central spot in the mainland, with proximity to Yaba, Surulere, and Lagos Island.
Pen Cinema Agege
Pen Cinema is a popular bus-stop in the Agege area that links to different locations like Ogba, Abule-Egba, and Iju-Ishaga.
It takes its name from Pen Cinema, a film complex that closed in 2006.
This bus-stop is close to the railway tracks, with a bustling market stationed there.
Oshodi
The Oshodi bus-stop was named after Balogun Landuji Oshodi Tapa, a Nupe boy who was adopted and raised by Eshinlokun, the Oba of Lagos who reigned from 1821 to 1829.
Just like Ikeja, Oshodi as a bus-stop is quite vague because different parts of Oshodi can be considered bus-stops. One popular stop at Oshodi is the Bolade market which is close to the Nigerian Army shopping complex. From this bus-stop, you can easily navigate to the Apapa-Oshodi ExpressWay, Gbagada-Oworonshoki ExpressWay and Agege Motor Road.
Obalende
This is a popular bus-stop on Lagos Island. If you are looking for buses to anywhere on the Island, under the Obalende bridge is where to find them.
The underbridge also houses touts and the homeless, who live in little kiosks smoking and playing loud music. There have been several reports of robbery at this bus-stop; it can be dangerous to be caught here late at night.
CMS
This bus-stop was named after the Christian Missionary Society (CMS) which was very active during Nigeria's colonial period. The majestic architecture of the Cathedral Church of Christ is one of the landmarks at the CMS bus-stop.
This bus-stop is quite close to Broad Street where financial institutions like First Bank, Sterling Bank, and United Bank for Africa have their corporate headquarters.
CMS bus-stop is also a strategic location as it is close to the sea and serves as a jetty for ferries that transport commuters going to Ikorodu, Apapa, Badagry, and even Porto-Novo.