---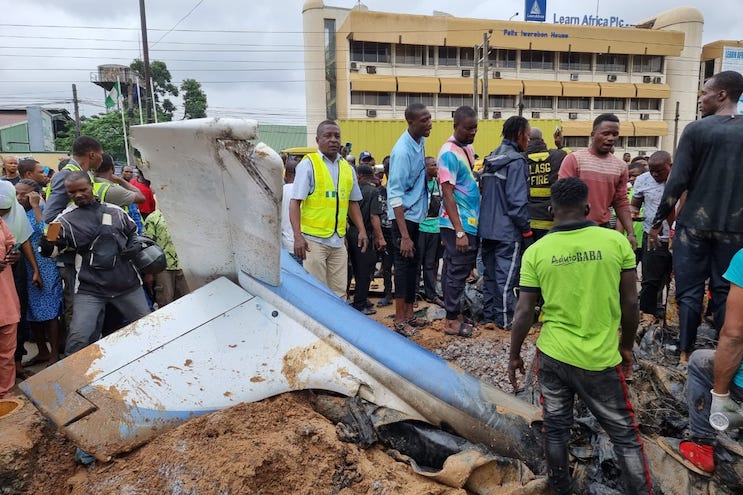 A single-engine aircraft crashed in the Oba Akran area on Tuesday.
The cause of the crash was yet to be determined as of the time of filing this report but emergency services said two crew and two passengers onboard were rescued.
Eyewitnesses said the aircraft burst into flames as it landed on a busy street. CCTV videos shared widely on social media showed the exact moment the aircraft crashed.
Lagos State Governor, Babajide Sanwo-Olu visited the scene of the incident on Tuesday evening.
"The Nigerian Safety Investigation Bureau (NSIB), whose responsibility it is to investigate incidents of this nature have already commenced investigations," the Governor said.
Sanwo-Olu also thanked the emergency services and residents for their quick response to the incident.
"We do not know the cause of the helicopter crash," he said. "That would be done by experts at the NSIB, which is an investigative bureau. But we are thankful that we got a very quick response both from Lagos State Emergency Service (LASEMA) and all the residents of the neighborhood, especially two very gallant citizens; Oluwafemi and Opeyemi. While everybody was running away, Opeyemi and Oluwafemi were the very first people that looked for water from the and they were able to also help to rescue the two passengers that were inside the helicopter.

"We could see that the crash site had been secured. All the wreckage has been evacuated and moved into a truck right. It would be transported officially and handed over to the Nigerian Aviation Authority where I am sure necessary investigations would be done.

"We are thankful to all the residents and all of you that came out very quickly and were able to rescue the occupants. Thanks to workers at the fuel station because where the crash happened was a gas line. I am thankful to the two people I mentioned earlier and I am sure we are happy that while the unfortunate incident happened in the middle of the road, it has not led to any fatality.

"I am sure there would be official information from the Airport Authority themselves, FAAN on the incident. I am just coming from the airport to see and assess what has been the situation. I am just arriving from Benin with Mr. President.

"We thank God, it wasn't more than this. I am sure the investigation would reveal all of the things that have gone wrong and we are hoping that the people responsible will be held accountable at the end of the day."