---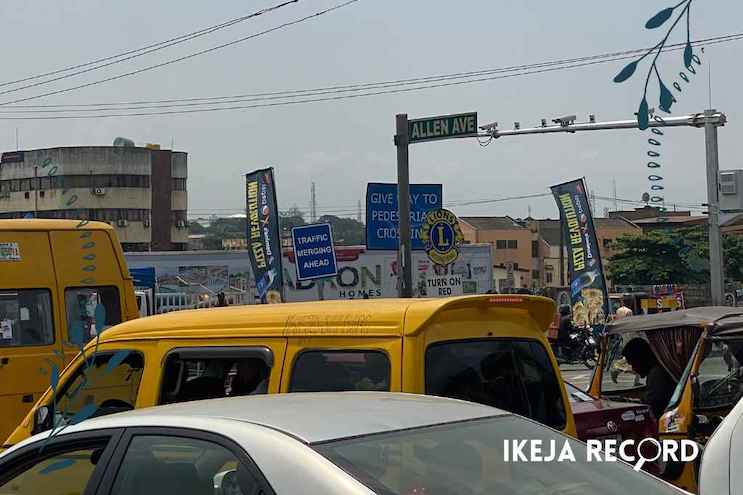 For many people, Allen Avenue is a red light district. But for Ahunanya Faith, it is home.
Things went south for Faith when her father lost his job; they had to survive on profit from her mother's groundnut business and moved from Oregun to a small apartment around Allen Avenue.
"It was fun. I grew up among touts, prostitutes, pastors, just name them," Faith told The Record. "It was a mixed place."
Allen Avenue never sleeps. It is famous for its nightlife and ladies of the night.
In daytime, hawkers and vehicles congregate at Allen junction, music blasting out from nearby shops and eateries.
Allen Avenue is in a strategic location with a road network that links to other popular locations like Toyin Street, Opebi, Adeniyi Jones and the seat of power, Alausa.
A central business district
Even though Allen Avenue is famous for its scandalous nightlife, it is also a central business district, home to offices of top-notch brands and businesses like Studio 24, Sony Center, and Nike Sports Store. It also hosts a slew of major bank buildings.
"Dollar or pounds" is a familiar chant from the Bureau De Change agents along the Avenue.
These agents hang around Adegbeyeni Street, close to a Eco bank building, seducing passersby to patronise their foreign exchange business.
A BDC agent, Dantata Ahmed, told The Record Allen Avenue is a lucrative spot for the business. On a good day, he gets up to 15 customers on the avenue, while on a bad day the number drops to four.
Eateries and restaurants are not left out. The popular Tantalizers eatery has been on Allen Avenue for over a decade. For the best place to enjoy 'home-cooked' meals, Mama Cass Cafeteria is available.
Other spots to get food and snacks are Just Amala and 12 baskets.
Market on Allen Avenue
The Alade market was established in the 80s by the Lagos state government. In 2016, the government relocated all the traders from the original Alade market site to a temporary location pending the development of a modern shopping centre at the original site.
The temporary site, located at the edge of Allen Avenue, off Obafemi Awolowo Way, sits on three hectares of land. The market has several shops seeling food items, clothes, jewellery, and household goods.
Some of the traders told The Record that the market has lost its old glory after its relocation. According to them, the relocation site keeps their shops hidden from public view, making people unaware that the market is still located around Allen Avenue.
"We want them (Lagos State Government) to come and build the old site for us, so that we can move back," the secretary of the Alade market association, Mrs Olajumoke Idowu, said.
Fela's museum
After soldiers burnt down Kalakuta Republic, the Surulere home of the legendary Afrobeat star, Fela Anikulapo Kuti in 1977, he rebuilt his new home in Allen Avenue. And this was where he lived till his death in August 1997.
Fela's home on Allen Avenue is now known as the Kalakuta Museum. It was renovated and officially opened in 2012, on October 15, Fela's birthday.
The museum is a three-storey building with a lounge on the rooftop. Visitors come in to see the room where Fela stayed while he was still living in the building, his tomb in the compound, the numerous pictures of his life, his work, children, and grandchildren which are displayed on the walls and in different rooms.
The entry fee for the museum costs N2000, and it comes with a tour guide showing you the whole museum and narrating the story behind every piece of artwork and pictures.
While speaking to The Record, the museum's manager, Favour Brown, said different people ranging from expatriates, pupils and students visit the museum regularly. "On average, maybe like 10 people visit in a day," she said.