---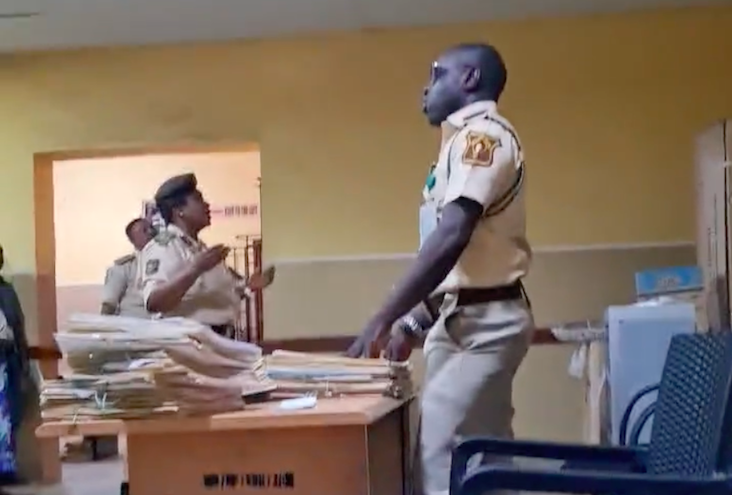 Reactions have trailed the viral video of Nigeria Immigration Service (NIS) officials conducting prayer sessions during work hours.
The founder of So Fresh food company, Olagoke Balogun, was bewildered when he got to the NIS passport office in Alausa on Wednesday at about 7:30am and was ordered to join the prayer session around 9am. The official resumption time was 8am.
"We recited Hail Mary, and then they called an alfa (Islamic cleric) to pray," he said in a tweet.
The tweet sparked furious reactions from Nigerians.
One Twitter user urged NIS to take action by suspending or sacking all the officials involved in the morning devotion.
"This is WRONG. Office resumes by 08:00 AM for services to be rendered to customers/Nigerians paying for the services and not for prayers," he said. "What good has their prayer done? Will the same officers/persons not come back to extort, insult and misrepresent their office after the prayers?"
A food entrepreneur, Damilare Ogunleye, said he was confused by the decision. "Why is a government institution a place of Christian worship, in a multi-religious country? All shades of wrong!"
What do you think? 😬 pic.twitter.com/7cT3B1vIPr

— Ikeja Record (@IkejaRecord) May 13, 2023
Another Twitter user accused the NIS officials of being corrupt despite their religious beliefs. " . . . this won't stop them from collecting bribes to process faster or hinder the process of those that won't bribe them," the user tweeted.
Chinedu Onoyima said it was a matter of "doing the right thing at the wrong place and time."
However, some Twitter users suggested there was nothing wrong with the activity. "In anything we do in this life we are supposed to put God first," one Jonathan Aguiyi said. Another tweeted, perhaps cheekily: "You must pray for the ones you are leaving behind before you japa. A civil obligation."
Meanwhile, some Twitter users suggested this could have happened without the knowledge of the current Passport Control Officer at the Alausa Passport Office, Gladys Chukwuendo.
"The PCO, overall boss, is a no nonsense Madam," one Seun Olota said. "But she can't be everywhere too to know everything unless when alerted.
One Richard Olosunde also praised ACI Chukwuendo.
"PCO Gladys is different," he said. "She drastically reduced the rate of corrupt practices at the Alausa office. She attends to special cases herself without asking for a dime which is normal ground for corrupt officers to enrich their pockets."
As of the time of this report, the NIS is yet to release any press statement regarding the viral video. Efforts by The Record to reach the NIS spokesperson, Tony Akuneme were unsuccessful as at the time of publishing this report.