---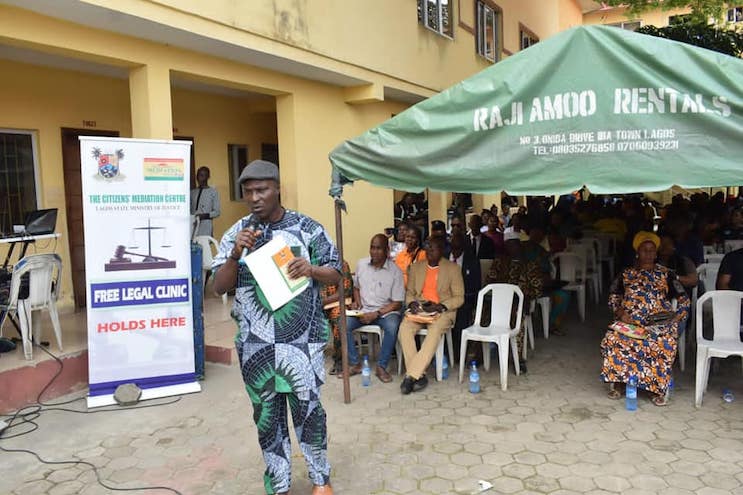 This is a statement culled from the Lagos state government official Facebook page. The original story can be read here.
The Lagos State Ministry of Justice has once again extended its Joint Free Legal Clinic to residents of Iba on Tuesday at the Iba Local Council Development Area of the State.
The Solicitor-General and Permanent Secretary of the Ministry, Mrs. Titilayo Shitta-Bey-Jeje, in her welcome address at the programme, stated that the Joint Free Legal Clinic is aimed at bringing awareness and also empowering the residents of Lagos State to seek and demand legal services offered by the State.
The Solicitor-General, represented by the Coordinator Restorative Justice Centre, Mrs. Adenike Oluwafemi, noted that access to justice is a basic fundamental human right and a principle of the rule of law. In the absence of access to justice, people are unable to exercise their rights or have their voices heard.
"Having access to the right legal advice at the earliest point possible is crucial for residents who have complaints, to ensure they have the support and help they need", she said.
Shitta-Bey-Jeje stressed that the State Ministry of Justice and its Agencies are present to educate and deliver legal services to Iba residents at no cost which is in accordance with Governor Babajide Sanwo-Olu's T.H.E.M.E.S PLUS Agenda to promote and ensure free access to justice by residents of the State.
She, however, urged Iba residents to support the State Government's effort of building a crime-free Lagos with respect for the rule of law and fundamental human rights.
On his part, the Chairman of Iba Local Council Development Area, Hon. Isa Abiola Jubril, appreciated the laudable free legal clinic initiative.
He said, "Access to advice and support as early as possible is necessary in helping people navigate the legal system at a time of immense stress and difficulty. Alongside this, we welcome the State Government's commitment to provide free access to justice for the people of Iba".
Hon. Jubril, therefore, extended his appreciation towards Governor Babajide Sanwo-Olu, Lagos State Ministry of Justice and its agencies for not only initiating the exercise but also for its bold steps in taking the legal clinic to the nooks and crannies of the State.
He also urged Iba residents to take full advantage of the legal services that will be provided by the Ministry of Justice and its agencies to ensure seamless alternative resolutions and easy dispensation of justice for a peaceful co-existence among the people of Iba.
In her remark, the Deputy Director, Directorate of Public Prosecutions, Mrs. Banke Ogunode, expressed immense gratitude to the State Government, Solicitor-General and Permanent Secretary, lawyers, State Counsel and other members of staff for their support in ensuring a speedy dispensation of justice across the State.
Agencies present at the event to offer free legal services include Citizens Mediation Centre, Directorate for Citizens Rights, Administrator General and Public Trustee, Office of the Public Defender, Community Service Unit, Directorate of Public Prosecution (Plea Bargain and Restorative Justice)
Attendees at the event include Lawyers and Staff of Lagos State Ministry of Justice, Local Government Officials, Police Officers, Market leaders and numerous Iba residents.