---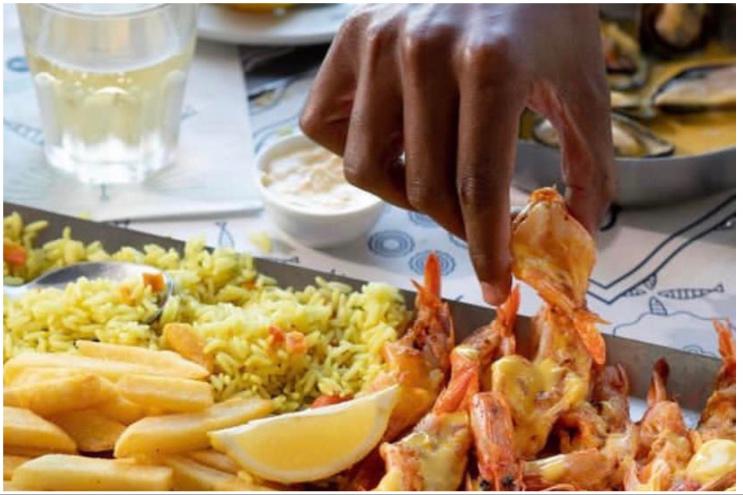 Finding a perfect seafood restaurant around Ikeja can be a bit challenging, especially when you're working within a budget of N10,000 to N25,000.
I scouted for great places in Ikeja to enjoy seafood, ranging from Naija-style seafood to international cuisine.
With a budget of N25,000, I dined at Ocean Basket and spent N13,050.00. At Bukka Hut, I indulged in their grilled catfish, which cost N5,000.
My last stop was Hot Wok, a Chinese street food spot, where I spent N5,200 on their Chinese seafood fried rice and spring rolls.
Here are some seafood restaurant recommendations, including three options I visited for detailed reviews.
Ocean Basket: This seafood restaurant stands at the top of my list because it's the ideal place for savouring a variety of seafood dishes. You can find it on Isaac John Street, Ikeja GRA.
True to its name, their menu resembles a delightful oceanic basket, offering prawn dishes, calamari, Mediterranean seafood, and a wide selection of sushi.
Upon entering their restaurant, you're greeted with a warm welcome from their staff, setting the tone for an enjoyable experience.
During my visit to the Ikeja GRA branch, I decided to start with garlic bread. However, I later discovered that they serve complimentary bread with three different sauces, making me reconsider my choice.
One remarkable aspect of this restaurant is its food presentation. My garlic bread arrived in a unique small aluminum pan. I appreciated the moist and warm texture of the bread, and the subtle garlic flavor in the sweet-sour garlic sauce was just right, not overwhelming – a delightful touch.
For my main course, I chose their renowned hake fish and chips, which came with complimentary fried rice as a side dish. The fish was perfectly fried and coated with a delightful sour cream sauce.
As for dessert, I opted for the chocolate brownie, which was accompanied by a complimentary scoop of Vanilla ice cream. The brownie was moist, sweet, and simply melted in my mouth.
My entire meal, along with a Sprite drink, amounted to just N13,050.00.
The restaurant ensured all my meals were served promptly, within a 15 to 20-minute timeframe. It's an ideal spot for solo dates, family dinners, romantic outings, or brunch with friends.
Laim The Fusion Place: This restaurant is located at Otunba Jobi Fele Way, Ikeja. However, it's not exclusively a seafood restaurant; they offer a variety of dishes, with only a limited selection of seafood options on their menu.
According to their Instagram page menu, they feature a seafood platter called 'Seafood N More.'
This platter includes shrimp kebabs, prawns, crispy calamari, sesame-crusted prawns, whole croaker fish, plantain fritters, fish samosa, and house rice. The Seafood N More platter is priced at N30,000, which might seem a bit expensive. However, since it's a platter, it's substantial enough to satisfy two people.
Additionally, they offer a seafood pasta dish called 'Seafood Sydronme.' It consists of penne pasta with periwinkle, calamari, prawn, croaker, and mussels, all smothered in a Neapolitan tomato sauce with Parmesan. The Seafood Sydronme pasta dish is priced at N8,000.
Rhapsody's: This establishment is a lounge/restaurant situated in the Ikeja City Mall, with multiple branches in various parts of Lagos.
Their seafood menu features options like grilled salmon and almond fish. They offer a Seafood Espetada, which is a skewer with grilled fish, prawn, and calamari.
You can also try their Fisherman's Rice, which is mildly spicy yellow rice topped with prawns, calamari, and fresh fish, prepared with coconut milk, turmeric, and a touch of paprika.
Another perfect choice is the Shakshuka fish, a grouper fillet braised in spicy tomato sauce with eggplant, marrow, and peppers, served with turmeric rice.
Bukka Hut: Bukka Hut is a prominent quick-service restaurant in Lagos, known for its Suya/Grill street spot in Ikeja GRA.
Their seafood offerings are limited to grilled catfish and croaker fish. I sampled their grilled catfish, which was both generously sized and well-seasoned with a flavorful pepper sauce.
If you're specifically in the mood for grilled fish, Bukka Hut is the place to go.
Hot Wok Chinese: This street restaurant is located on Oduduwa Way, Ikeja GRA, and primarily specialises in Chinese fast food, including dishes like Spaghetti. The sole seafood option on their menu is Seafood Chinese fried rice, a stir-fried rice dish with shrimp and calamari chunks.
This is a compact eatery that exclusively offers takeout services and also provides delivery to your location. During my visit, I ordered their Seafood Chinese fried rice and spring rolls. I appreciated that the chef asked about my spice preference.
The meal was prepared in just 20 minutes and tasted savoury, although the portions of calamari and shrimp in the fried rice were a bit limited.
Casper & Gambini's: This restaurant, located in Ikeja City Mall, offers a selection of seafood dishes that you might find appealing.
One option is their Ginger Salmon meal, featuring salmon, rice mix, sweet peppers, tomato, ginger, kale, and soy sauce, priced at N12,500.
Another seafood choice is their seafood linguini pasta, a seared mixed seafood dish with fresh cherry tomatoes, garlic, basil, lemon, Parmesan cheese, and fresh cream.
They also serve traditional fish and chips and Nigerian-style grilled fish with fried rice.
If you're a salad enthusiast, they have two seafood salad options: the classic shrimp Caesar, with romaine lettuce, C&G's Caesar dressing, shrimp, Parmesan, and garlic croutons, and the grilled fresh salmon, comprising wild rocca, baby spinach, white cabbage, brown rice, quiled fresh salmon, soybeans, avocado, ginger, toasted peanuts, and homemade Asian dressing.
Tilapia and Tinz: This restaurant, located at 11, Oduduwa Crescent, Ikeja GRA, is known for its African seafood meals. However, if you're a solo content creator who relies on a tripod, be aware that tripods are not allowed here.
During my visit, I was impressed by the restaurant's vintage and artsy decor, with black and white TVs, a vinyl player, and captivating artworks. They also have an outdoor patio for those who prefer an open-air dining experience.
Although I intended to try their fish pepper soup and fresh palm wine after seeing their menu on Instagram, my experience was marred by the manager's rude refusal to allow me to use my tripod for video recording. Her demeanor and tone instantly spoiled my appetite, leading me to cancel my order and leave the restaurant.
Despite this unfortunate incident, the restaurant still offers the potential for enjoying tasty Naija-style seafood, as evidenced by the enticing pictures and videos of their meals on Instagram.