---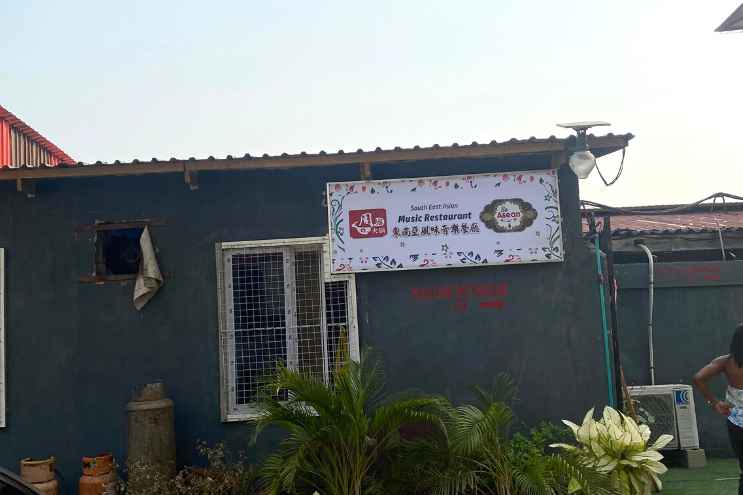 This month I went with a couple of friends to South-East Asian Music restaurant. Finding the restaurant was tricky. The address says it is on Toyin Street, but it is just off the Allen-Opebi roundabout. And you have to ask for directions from people around. I made at least one u-turn on Toyin Street, looking for a signboard. I didn't find one. My friend had to stand outside the gate, waving me into a small gate that opened into a vast, school-field-like space. At the end of the field was Seamusic.
There are a number of Chinese restaurants in the Allen-Opebi axis. I remember telling someone it's the headquarters of Chinese people in Lagos. I don't have any proof for that, but it rings true.
Seamusic itself has a nice ambience. I liked the interior decoration. It looked distinctly Asian with the colourful lights and rotating tables. The waiters brought peanuts and hot tea for starters, and we were handed stacks of menus, which is where we had the most difficulty. Much of the menu was written in Chinese characters. I've been learning Chinese for almost five years, but I could only understand a few characters. My friends were more confused. We had to rely on the waiters and the pictures to make a choice. I asked for hotpot, a Chinese dish that involves cooking raw vegetables and meat in a boiling broth.
For the hotpot, we were moved to one of the two VIP rooms, which was more private.
When our food started to arrive, it was met with a wave of pleasure and disgust. The favourite was a curry pork dish. One of the worst was a reddish chicken soup and the hotpot I ordered – I could barely get through a quarter of it. I asked for more pepper and spices, but the meal had lost its way.
They had great rice, though. From the white to the colourful to the chicken-sauteed and the egg-flavoured. We could have had a festival of grains.
In the end, they gave us a complimentary tray of fruits. And all seemed well after I eventually got my lemonade, which was almost perfect.
Then, we realised that the waiters had brought some sushi along with the raw meat and vegetables for my hotpot. I had unwittingly dipped all of it into my boiling broth. The manager said we would pay for it, but I argued that we never ordered sushi.
Fortunately, the restaurant's owner (at least, she appeared to be) intervened and said she would bear the cost of the errant sushi. I tried to practise my rusty Chinese with her. She was amused and berated me for my poor language skills after learning I had been taking Chinese classes for more than four years. Well, who could blame her?
So, if you are going to Seamusic, it might be good to know what you want before setting out. But if you are ever in doubt, please order one of the rice dishes.
I hear they have a nice karaoke section, but we never got to try that out.