---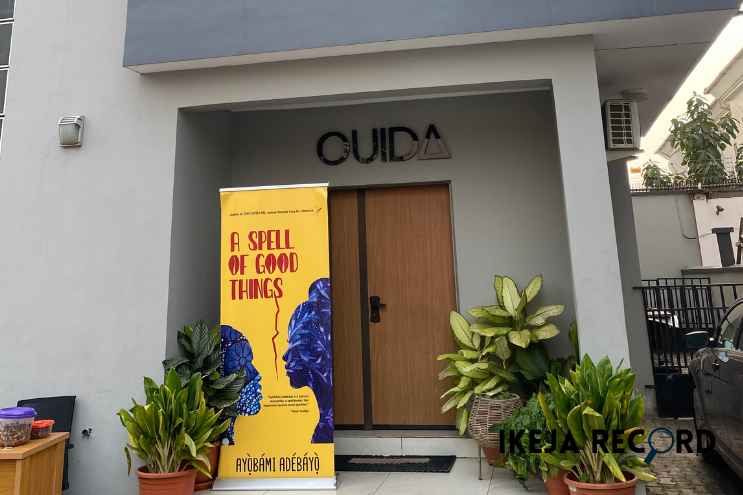 The first time I heard about Ouida (pronounced as Wee-Dah), it was from a friend. She told me about this amazing bookstore in Ikeja where we could hang out to chat. Unfortunately, we visited when the Ake festival was ongoing. Ouida is part of the Ake Festival family, and all the books had been moved to the festival grounds somewhere in Ikoyi.
But Ouida is more than a bookstore. It is a three-floor cultural space in Ikeja GRA. It houses a cafe, a workspace, a publishing house, a walkthrough art exhibition, a recording studio, and a seminar room.
They also organise different creative events like the Open Mic Night, book reading sessions, poetry sessions, and sip and paint activities.
"Ouida bookstore is different from any other bookstore in Ikeja because we have books for every kind of reader," submission editor at Ouida Books, Omotoke Solarin-Sodara, told me.
When I visited this month, I had a friendly chat with the bookstore attendant, who offered relevant recommendations. But I wasn't there for the books. I had come for the Ouida Open Mic Night, which is held monthly. Stepping up to the mic were poets, musicians, comedians, spoken word artists and even a human calculator.
"People tell their stories through music, poetry, spoken word, stories and it has been an amazing one and I am looking forward to the next edition," an attendee, Tella Omojolade told me after an evening of inspired performances.
There are a number of things to explore at Ouida. Tucked in the small corner on the right-hand side of the bookstore is an area designated for people to use as a workspace. With just N500 per hour, you can work here, enjoy their free Wi-Fi and even order snacks.
There is a cafe where you can order food and drinks. If you come in to buy some books, you can order from their menu, relax on the lounge couch, and flip through the pages of your new book.
Another facility inside the building is a studio where you can pay to record your podcasts, audiobooks, music, and voice-over projects. Ouida charges N10,750 per hour. You can also get discounts if you meet their terms and conditions.
On the second floor is a small walk through art exhibition for art lovers. Although I wasn't allowed to check out the exhibition, you can catch a glimpse of the works from the bookstore downstairs.
Once a month, Ouida organises an Open Mic Night for creatives to network and share their work. The Open Mic Night is usually held at the bookstore area. I fell in love with the cozy setting and the arrangement of chairs in the middle of the small bookstore space. Attendance attracts a N1,000 gate fee. It starts at 5pm and continues late into the night, although it's officially scheduled to last for two hours.
I was really surprised at the turnout. As the event progressed, more people trickled in, filling up every seat downstairs and upstairs; some were sitting on the steps, hanging around the workspace area. People with no seats had no choice but to stand.
I think they will have to move the Open Mic Night to a larger space.
Ouida also organises book readings and invites authors to meet their readers. There is a literary event for adults 40 years old and older.
According to one 2019 report, a bookshop is much more than a sales outlet for books. It has developed into a social meeting place with the allure of a cultural institution. I believe this is a perfect description of what Ouida means to the Ikeja community.
Through their events, Ouida pulls people from far and near on the mainland to Ikeja. Most of the time, bookstores like this are usually found on the Island. I love the fact that Ouida is in the heart of Ikeja, where it is easily accessible from anywhere on the mainland.
Ouida brings creative minds together, helping them to share their talents with like-minded individuals. This contributes to the growth of the literary community.