---
This is the online version of Ten Things on the Record, a weekly newsletter where we curate a list of things you need to know if you live or work in Lagos. Subscribe for free here.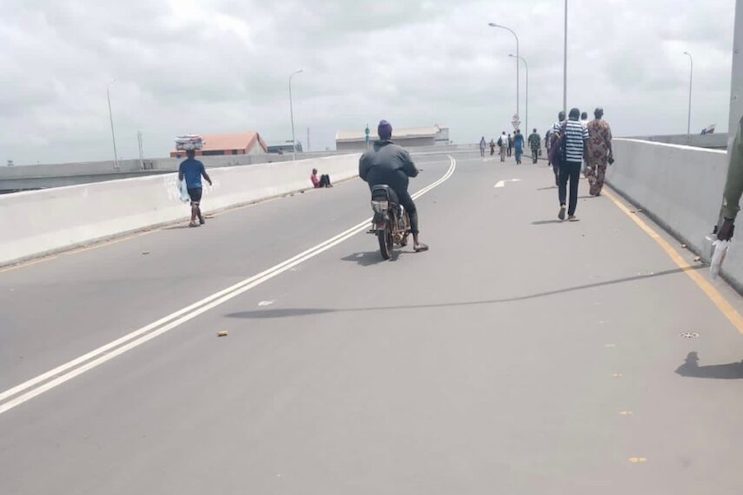 'Guerilla warfare'
Back to the streets: Okada operators have taken over the overpass bridge of the Lagos red line rail in Ikeja-Along, the Whistler reported. Governor Babajide Sanwo-Olu, in May 2022, had banned okadas, commercial motorcycles, in six local government areas indefinitely, including in Ikeja. But it appears enforcement of the ban has proved difficult.
Quotable: "They've turned it into a kind of guerrilla warfare," a spokesperson for a state taskforce mandated to enforce the ban, Gbadeyan Abdulraheem, said. "When we advance, they retreat; when they see us coming, they retreat. When they know we're not around the corner, or maybe we've gone for another operation somewhere else, you see some of them trying to manoeuvre."
Delayed pledge: The red rail line is one of the mega construction projects ongoing across Lagos. Governor Sanwo-Olu had promised the project would be ready before May 29. That deadline has since passed and commuters continue to face harsh traffic along that route, especially during rush hours. Okadas are nimble and can navigate tight spaces, making them attractive to commuters in a rush. But they can also be deadly.
A LCDA in limbo?
No joy: Several residents in the Onigbongbo Local Council Development Area who spoke to The Ikeja Record said the local council administration headed by Oladotun Olakanle has neglected the well-being of the community. "Most of the projects you see now in Onigbongbo" were done by the last Chairman," one resident complained bitterly.
Response: But speaking to The Record, a spokeswoman for the LCDA said the Olakanle administration has performed credibly well in the past two years, constructing and maintaining roads, facilitating power projects and disbursing grants to businesses.
Context: Olakanle, a former Vice-Chairman of the LCDA, was impeached in March 2021 over allegations of financial misappropriation. But in July 2021, he emerged as the All Progressives Congress' candidate for the July 26, 2021 local government elections.
Around Ikeja and beyond
Free rides: More than two weeks after the Chairman of Ojodu Local Council Development Area, Segun Odunmbaku announced the delivery of buses for a free public transport scheme, the program is yet to fully take off.
New face: Governor Sanwo-Olu approved the appointment of Mrs. Adesola Ibironke Kosoko as General Manager of Lagos Television (LTV) with effect from August 8. Before her appointment, Mrs. Kosoko was the Director, Content Control and Operations at Lagos Television.
Water Transportation: The state government said it has completed the construction of a modern floating jetty at CMS-Marina. Lagos State Ferry Services boss, Abdoulbaq Balogun said the jetty was a strategic connection point to the recently commissioned CMS-Marina Blue Line Rail System, the Vanguard reported
Death in the sea: The body of a yet-to-be-identified man who jumped from the Lekki-Ikoyi Link Bridge into the lagoon has been recovered, the Punch reported.
Prepared hosts: Deputy Governor Obafemi Hamzat told members of the Confederation of African Football (CAF) the state is ready to host the 2027 Africa Cup of Nations with the Republic of Benin.
Know Ikeja
Our staff writer, Omon Okhuevbie, compiled a list of top ten hotels in Ikeja. Did she get it right?
What to eat?
If you are not vegetarian, put this ram suya spot in Sabo, Yaba on your to-do list.
What to do?
Loungethirty8 is hosting a comedy show in Bode Thomas, Surulere on Sunday.