---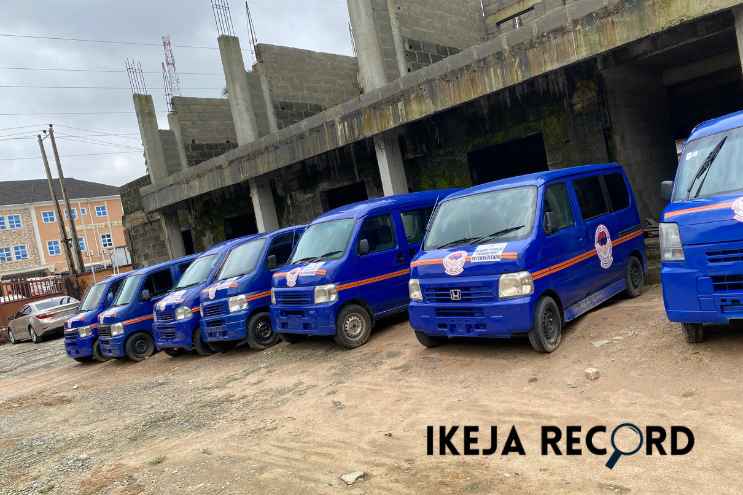 More than two weeks after the Chairman of Ojodu Local Council Development Area, Segun Odunmbaku announced the delivery of buses for a free public transport scheme, the program is yet to fully take off.
On Monday, The Record visited the LCDA office in Oke-Ira to get an update on the transport scheme and answers to the lingering questions posed in our last report,
The Director of the Ojodu LCDA Information Unit, Mrs. Bukola Bankole refused to disclose the cost of the free public transport scheme. However, she confirmed that the scheme is fully funded by the local government.
According to Mrs. Bankole, the free transport scheme will be "free for the first three months."
The Record noticed that the number of buses in the Ojodu LCDA parking lot had reduced since our previous visit on July 25. There were a total number of 12 buses then. On Monday, only nine buses were left in the parking lot.
Mrs. Bankole, in response to this observation, said the total number of buses disbursed by the Chairman is 14, adding that the remaining five buses are out for maintenance and test driving.
On the issue of how the drivers for the buses were selected, the Director said the drivers are members of the community.
An official from the Chairman's office, Ikeoluwa Lawal Odunmbaku, said two drivers were selected by each Community Development Association chairman from the six wards in the Ojodu LCDA.
A mechanic in the Ojodu Ward D area, Mr. Ayo Olusanmi, who was selected as one of the drivers said he took the offer because he was happy to play a part in the free transport initiative.
Olusanmi also confirmed the drive test during the weekend. He said he is unsure of the kickoff of the free rides as the buses are still being worked on.
"I was here on Saturday, some of us were here on Saturday," he told The Record. "They asked us to check the vehicles, and called people to fix the problems."
Some Ojodu LCDA residents who spoke to The Record said they are unaware of the scheme.
"I am just hearing about this scheme from you, I have no idea, neither have I boarded any of the free buses," a hairdresser who pleaded anonymity told The Record.
However, others mentioned seeing the vehicles around the vicinity during the test rides over the weekend.
"As of Saturday, the buses were parked here (in front of the Ojodu LCDA office) and they were changing tires," a tricycle operator, Mr. Ihenacho Longman said.
"These buses are for themselves, not for us," another anonymous resident blurted.