---
Welcome to Ten Things on the Record where we curate a list of things you need to know if you live or work in Ikeja.
---
Lagos Govt drags teenager to court for making prank calls to fire service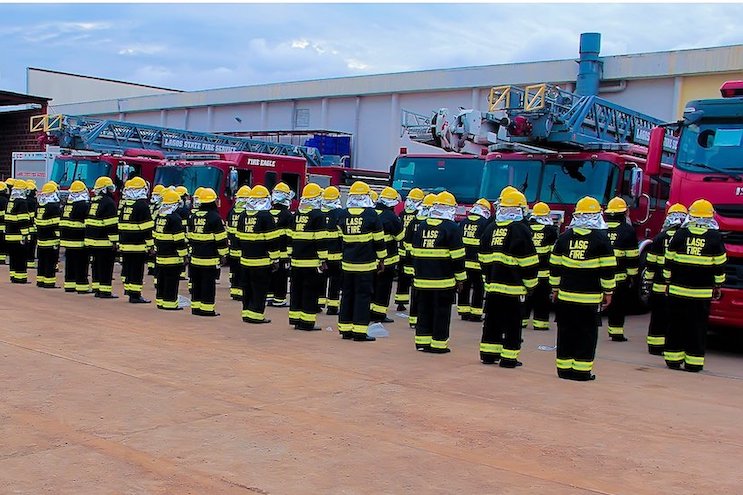 The Lagos state government is set to charge one Uzuokwu Solomon, 18, for making hoax calls to emergency fire services.
According to a statement from the Lagos State Fire and Rescue Service, Solomon made a prank call on April 14 from Harmony Estate in the Ajah area, prompting fire trucks to be deployed from the Lekki Phase II Fire service station.
"On arrival, it was discovered that there was no fire incident in the estate," the statement added. "Because of the frequency of such calls in the past, the Estate security helped in the investigation which led to the arrest of the notorious false caller."
Policemen accused of extorting three UK returnees of N20,000 on Allen Avenue
Men of the Nigerian police force stationed at Allen Avenue, Ikeja have been accused of extorting three Nigerians who just returned from the United Kingdom of N20,000, the Foundation of Investigative Journalism reported.
The men were in a Bolt ride after purchasing suya on Allen Avenue when the police officials stopped and picked them up. "One of them took me out of the vehicle, and to a corner," one of the victims told FIJ. "He said . . . they could shoot us dead there and nothing would happen."
The police are yet to respond to the accusation but police brutality is common across Nigeria despite landmark protests in 2020.
LAWMA seeks partnership with multimillion dollar plastic recycling firm in Aiyetoro
The Lagos Waste Management Authority (LAWMA) is seeking to partner with Polysmart, a plastic recycling facility located in Aiyetoro, along the Lagos-Ibadan expressway.
LAWMA believes the partnership can help to solve plastic pollution across Lagos.
"In a state where we have about 12 million of used plastic, if Polysmart collects seven million on a daily basis, gradually, plastic pollution will go off and we will have a plastic free environment," Managing Director and CEO of LAWMA, Mr. Ibrahim Odumboni, said during a recent field visit to Polysmart facilities.
NCDC: No cholera cases reported in Lagos in three months
No cholera cases were reported in Lagos within the past three months, according to the latest epidemiology report by the Nigeria Centre for Disease Control.
The NCDC said a total of 1,336 cholera cases were reported nationwide with a total of 79 deaths.
States with cases include: Abia, Bauchi, Bayelsa, Cross River, Ebonyi, Kano, Katsina, Niger, Ondo, Osun, Sokoto and Zamfara. Cross River State had the highest number with 709 cases, Vanguard newspaper reported.
Court nullifies MC Olumo's Parks and Garages
A National Industrial Court sitting in Lagos has nullified the Lagos State government's appointment of a caretaker committee to oversee the affairs of all motor parks and garages in the state.
The court instead reinstated the operations of the Road Transport Employers Association of Nigeria, RTEAN, in the state.
Reacting to the judgement, counsel to the Lagos State government and the Parks and Garages Administrators, said they would study the judgment and act accordingly, Vanguard newspaper reported.
Aviation workers hold road show to conclude two-day warning strike
After blocking access roads on Monday, aviation workers demanding better working conditions conducted a road show on Tuesday, chanting solidarity songs.
Meanwhile, offices of various aviation agencies in Lagos were also shut, the News Agency of Nigeria reported.
Members of the union laid siege to the Murtala Muhammed International Airport, resulting in gridlock in the area.
Court sentences man to life imprisonment for defiling minor
The Lagos State Sexual Offences & Domestic Violence Court has sentenced Kehinde Gabriel to life imprisonment for defiling one Miss. F aged three years (at the time of the incident).
His name will be registered in the Sexual Offenders Register as maintained by Lagos State.
The court found the defendant guilty of the one-count charge of defilement, stating that the Defendant is a person of no truth and remorse.
Stowaway found dead in wheel well Of KLM flight from Lagos
A dead stowaway has been found in the wheel well of a KLM Royal Dutch Airlines Boeing 777 (registered PH-BQM).
An investigation is ongoing to find out how the deceased got into the wheel well of the aircraft, which originated from Lagos.
"Sometimes they survive, but most of the time it goes wrong given the sharp drop in temperature. On longer flights, temperatures can go down to minus fifty degrees, impossible to survive," a spokesperson from the Royal Dutch Marechaussee said.
Soldiers beat up 12 LASTMA officers for arresting their boss
The State Coordinator, Special Traffic Management Committee on Apapa gridlock, Hassan Adekoya, has confirmed the report of soldiers beating up Lagos State Traffic Management Authority, LASTMA, officials along Costain-Apapa area in Lagos State.
The soldiers claimed that one of their bosses was arrested by some LASTMA officials for taking a One-Way route to avoid traffic, Vanguard newspaper reported.
Adekoya said, "Everything is fine now and our men are undergoing treatment at a hospital. Both parties have apologised to each other and there is no cause for alarm. The situation is under control."
Lagos CP assures Davido, fans of adequate security at TBS concert
The Lagos State Commissioner of Police, CP Idowu Owohunwa, has assured singer Davido and his fans that adequate security would be provided at his 'Timeless' concert.
Davido paid a visit to the Lagos State Commissioner of Police regarding security at his TBS concert scheduled for April 23.
"The CP assured him of the command's total commitment to the security of Lagosians, even at concerts," Lagos State Public Relations Officer, SP Benjamin Hundeyin tweeted.