---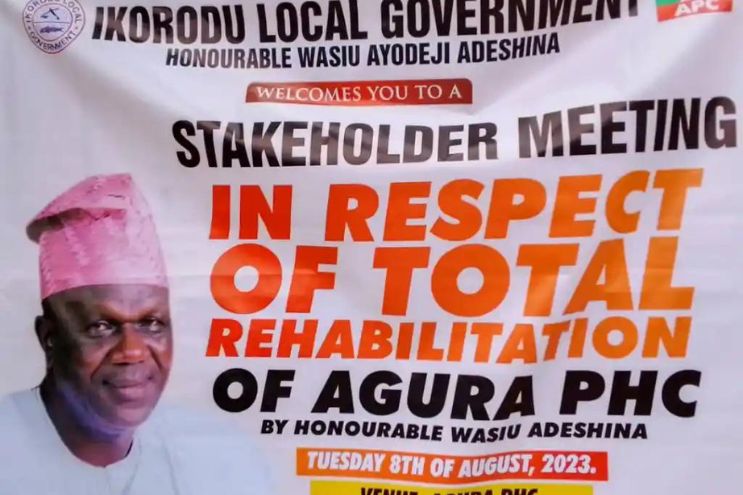 This is a statement culled from the Lagos State Government website. The original story can be read here.
Recently, the Permanent Secretary, Lagos State Health District II, Dr. Dayo Lajide joined the Chairman of Ikorodu Local Government, Hon. Wasiu Adeshina and the Alagura of Agura, HRM Oba Ahmed Moruf Olalekan Ogunnaike to flag-off the rehabilitation of Agura Primary Health Centre in Ikorodu Local Government Area of Lagos State.
The renovation of the Agura PHC which has been in existence for over 30 years is being sponsored by the Ikorodu Local Government in line with the medical infrastructure overhaul strategy of the Lagos State Government.
Speaking at the flag-off ceremony and stakeholders' engagement held at the premises of the facility, the Permanent Secretary, Health District II, Dr. Dayo Lajide expressed happiness that the PHC, which serves the densely populated Agura and Gberigbe communities of Ikorodu, is being rejigged to provide quality and affordable health services to residents.
While emphasising the critical role Primary Health Care plays in the overall health care delivery system, Lajide noted that the quest for Universal Health Coverage for citizens depends largely on access to functional, qualitative, efficient and affordable primary health care services offered by the PHCs.
She thanked the Local Government Chairman and the management of Ikorodu LGA for considering the Agura PHC for rehabilitation. She also expressed optimism that the Agura PHC would contribute to improved health indices for Ikorodu LGA when rehabilitation work is completed.
The Permanent Secretary used the opportunity to assure the Chairman, health workers and community stakeholders of her commitment to birth and sustain functional primary health centres in Ikorodu LGA and other LGAs under her jurisdiction.
Earlier, the Chairman of Ikorodu LGA, Hon. Wasiu Adeshina stated that the rehabilitation of the PHC is long overdue. He explained that the renovation work would also include earmarking space for a well-equipped laboratory.
He noted the presence of the Permanent Secretary of the newly created Health District II, Dr. Dayo Lajide at the flag-off ceremony and stakeholders engagement event is indicative of the commitment of the present administration of Governor Babajide Sanwo-Olu to ensuring universal health coverage in Lagos State.
He added that his administration has keyed into this vision, noting that his resolve to provide quality health services to residents of Ikorodu and environ has been further strengthened by the various strategies and initiatives being implemented by the Lagos State Government in the health sector.