---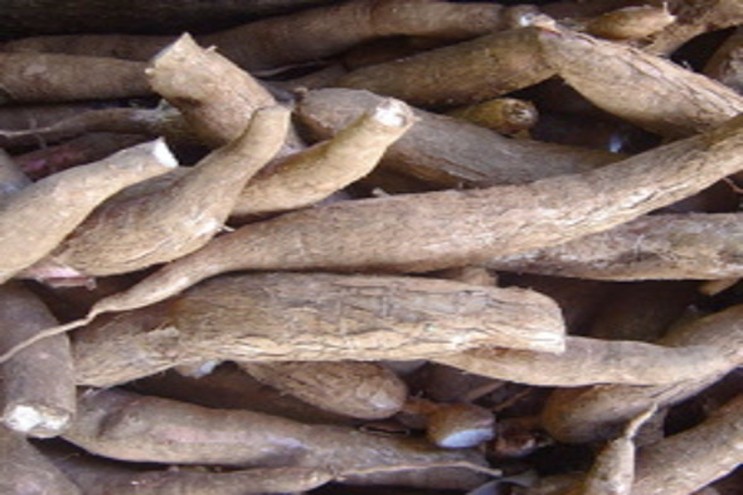 This interview has been edited for clarity and brevity.
Cassava is an important annual food grown throughout Nigeria. It is tuberous and has the ability to thrive in poor soils and has considerable resistance to drought. It is also used to refer to the root of this tropical plant. It feeds the majority of the country's population, yet, the country has never had enough of it and the prices of derived products such as garri, fufu, cassava flour, have always remained high.
In this interview with Ikeja Record's Abel Adekunle, a cassava farmer and the Chairman All Farmers Association of Nigeria, Lagos State and the South West Chapter, Doctor Femi Oke, discusses how Lagos and the country can boost the production of cassava and other foods.
Abel Adekunle: Who is Doctor Femi Oke?
DOCTOR OKE: Yes, I am Doctor Femi Oke, Chairman of All farmers Association of Nigeria (AFAN) Lagos state South/West chapter.
AA: What kind of farming do you do and how did you get into agriculture?
DOCTOR OKE: Well I am a cassava farmer. My passion dates back over 25 to 30 years now. I have been a villager brought up in a small community Igando in Epe axis of Lagos state and ever since we were young, we followed our grandma to the cassava farm and did some other crops farming, after the education background which I had from the University. Moreover, I come home regularly which was Epe for weekends and well at larger I put some interest in politics as at that time that was early 1999 though my late father was a councilor for the ward, we had one at Epe at that time, so will with people always come to our place then anytime to seek for assistance. I noticed most of this assistance could not be met by borrowing. This actually motivated me in buying their cassava in the farm and that was what brought me to set up a processing center where I process the raw cassava into garri.
AA: Awesome! Nigeria owns the record of being the largest producer of cassava in the world, but if you look at the performance the production per hectare still remains low, what do you think is responsible for this?
DOCTOR OKE: Yes, you have said it well, what brought it low is cultivation of lands. It's on the high side here in Nigeria and if we could talk about cassava as it is, it is a major product of southwest, it is now coming up in the northern side of the country but we really talk about it in the southwest products and cultivating lands in the southwest is on the high side. Our own land is not like the fertile one like the one we have in the north where tractors can easily move in, you have to uproot, which means you have to use bulldozer, you uproot and before your tractor could go in it could be difficult, then after that, you now go into putting fertilizers, you have to arrow, all those things make it so high and the government of southwest, our governors precisely are not taking more cognizance, they aren't taking more role into assisting the farmers in this area, so that is why the low turnage is there, apart from the seedlings of which we and thanks to IITA and other Institutes.
AA: Let's domesticate it, coming to Lagos. Sometimes the farmers complain about the use of herbicides which kill cassava. What do you think is really responsible for that?
DOCTOR OKE: I wouldn't say that because some of our farmers aren't being trained, capacity building and training is very important in every aspect of food and if it is not being used at the right time, it can easily kill and you may not get a better yield. So that is it, I won't deny that but if you are doing your land preparation and you are about to start your plantation, definitely you must have used your herbicide, minimum of five days before you do your plantation. Definitely, it must have killed all the other bad bacteria inside the soil, so if those ones aren't being taken care of, someone may get low-yield satisfaction during your harvest. Another thing is the roads leading to most of these lands where we planted all these cassavas, the roads are still very bad, but for you to even move your produce out of where it's been planted, it takes a lot of money, and we are appealing to the government to have a proper partnership in the area of transportation for the goods.
AA: Garri is one of the staple foods all over the country just as it is in Lagos. Can you tell us what can be done to boost the production of cassava so that the food stuff will be cheaper for people to buy.
DOCTOR OKE: The first area I talked about is opening of lands for farmers. If the government couldn't identify some lands available for the farmers to be used. Where farmers identify themselves, the government should assist in opening those areas which are cultivating for them, making everything possible, which is making affordable things there, which is opening of the roads, during the land preparation, definitely the price of garri would come down in the market. But since all those ones are not been taken care of, it will still be on the high side, and looking at the cost of fuel now, which is the PMS, it is on the high side and for an average farmer who goes to the market, it is not possible for a farmer to have everything by themselves, you see, we sell and you buy some other things back home, so definitely, we to go to the market do what you have and what you're selling and from what you have is what you're going to buy but your needs. So we want the government to do a lot in those areas. Like I know of some communities that agree to release their lands for the government for cultivation, but sometimes at the end of the day we now discover that some people would just divert it and start using it for estate, so all those ones aren't encouraging communities, families to release their lands. But where, they do and where farmers identify and the sector in charge which the Ministry of Agriculture could identify and agree with, they can assist them in doing the openings of those roads, opening of the farmland and this one could ease the price of those commodities in the market. Then the issue of modern technology, there are some small machines, small cultivating machines now that we use instead of hoes and cutlasses, it will increase the hectares of which a farmer can do, instead of doing the manual job.
AA: What is the Association doing to ensure farmers get the right education they need in order to meet up with the demands of food security in the country?
DOCTOR OKE: Yes, our association is clamouring to the government, to bring in extension officers. Extension officers have been in existence for some years back and used to work under world bank, under Agricultural Development Authority, in every state which has to come from the Federal Government but for some time now, we discovered that they aren't available in every area where they do assist farmers. Their job is very important because they are the ones to come to the farmers, and say Oh this thing you planted isn't good, Oh why can't you apply this, Oh this is when you should apply, so we are seeking the government should strengthen extensions officers, and like what they've done under past quarantine, I think we clamoured for it as at that time that quarantine should be separated, but if it's not, let it be a Parastatal under Federal ministry of Agriculture and Rural Development. We thank the present government for bringing Federal Ministry of Agriculture and food security which has never been in existence, so if that one, because we are telling the government these are the right thing to do, so that we could have food on the tables of every Nigerian, so how's we to do it and we're doing a lot in that extent and that's why we are saying, to train farmers is better, but how do we go about it, is by bringing down these extensions officers in every state, strengthen them, give them what they need, the where they couldn't reach with the vehicle, they should provide them with motor bikes or tricycles to visit any farm, this would significantly improve food production in Nigeria.
AA: What is the Association also doing to make agriculture attractive to the youths?
Doctor Oke: Well, we in All Farmers Association of Nigeria are doing all what we could to encourage the young ones and to even encourage our brothers and sisters in the government because it's the only commodity that's being allowed even if you still working as a civil servant, Agriculture is the only sector you allowed to work. We are training our youths and that is why we are saying e-learning now, that is social media. There are a lot of value chains in agriculture, like you said, not many of our youths like to be involved in agriculture. But they are on social media, they can do some adverts, they can do some other things to, for you to connect the true farmers or for the end users, who want to buy and from the producer, to bring them together, so we are doing a lot there, though Rome wasn't built in a day, but I think most of our farmers, most of our young ones are now being encouraged, we are trying to encourage them to come into Agriculture.
AA: The Lagos State Government in 2022 launched Agricultural Value Chains Enterprise Activation Programme (AVCEAP), has the association tried to key into this programme?
Doctor Oke: Yes, we are aware of the launching of the "corps" taking place in the "Ketu Area" in the Epe Axis of Lagos State. Firstly, I could even tell you ever since the inception of acquiring the land, "AFFAN Chairman " which is myself was one of the people that encouraged the farmers to get up to one million, one hundred hectares of land "between 2021 and to the boundaries", so it's a plus to us, thanks to the government of Babajide Olusola Sanwo-Olu in Lagos State, he has taken it up, because of the large expanse of land he saw there and that is why they were able to make it as a hub for the farmers and there is no way farmers could not fill in because out of departments, lots of other things were there, lots of other sessions. Stakeholders were going to come together and try to open that area, that axis into, commercial area full time. Such hubs allow all farmers to bring their produce. We advised the government and what we think the government should do in the hub area.
AA: Are there guaranteed offtakers in the hubs?
There's no doubt we would not see guaranteed off takers if the environment is conducive and they are able to meet up the standard. Nigeria is growing every day, our population is increasing from over two hundred and twenty billion. Talk of Lagos itself, Lagos is going to about twenty two million, so definitely there'd be off takers and it's only areas, we are saying government should assist, where we have gluts in the market, every produce, we have glut that should be taken care of where silos and reserved centres should have and such a place could've been a better place because if we look at it. There are some that we need, their temperature for it to be cooled down especially where we talk of food items like tomato, vegetables, etc It have to be kept in a cool area and if you think of these electricity definitely individuals can't get it but in such an area where there's going to be automated plant power or solar energy to preserve all those items, definitely it'll encourage we farmers to now produce more because it's going to reduce the post-harvest losses of our produce.
AA: Are you saying the Governor Babajide Sanwo-Olu led government has done well in the area of Agriculture in the state?
There's no doubt about that, they're doing well and they're still doing well there. We're walking closely with the government and the government is listening to us. The past commissioner Abisola Olusanya who may likely come back has done well, and she's doing well. From all what has been laid down during the time of the now Oba Gbolahan Lawal, who was our former commissioner for Agriculture In the state. What they've laid down is still in order and farmers love it.