---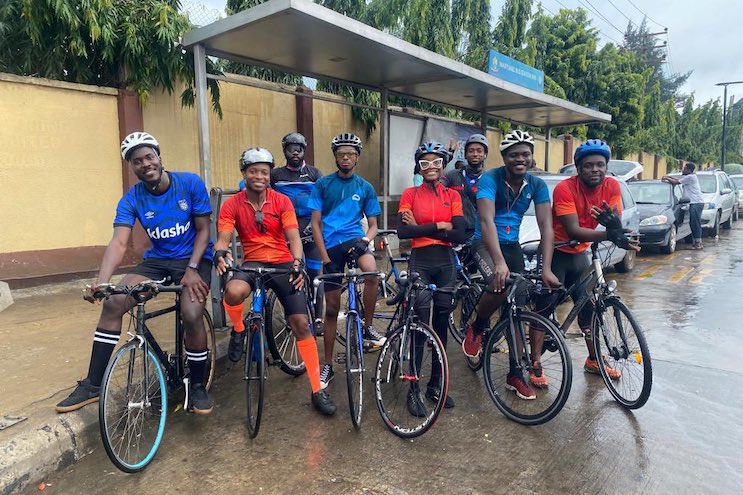 After the gradual ease of the coronavirus lockdown in 2020, four friends decided to pick up their bicycles and ride across Lagos mainland on Saturdays as a means to keep fit and have fun.
For Dipo Adebowale, Desola Adesanya, Omolaso Onochie and Seun Adesanya, the weekend rides started as a hobby, but it soon gave birth to a community of cyclers as others began to develop interest in the activity.
But cycling in a dense city like Lagos – without dedicated bike lanes – comes with its challenges.
Adesanya, one of the co-founders of City Cyclers and an operations manager at a fintech, spoke to The Ikeja Record's Omon Okhuevbie about the cycling community, the challenges faced by cyclists in Lagos, what the Lagos government needs to do to improve the cycling culture and the close-knit social community they are building through cycling.
This interview has been edited for clarity and brevity.
Omon Okhuevbie: Can you share with us the story of how you started City Cyclers? Where did the idea for it come from?
SA: I think this was 2020. It should be the lockdown year right? Around July. So we are a group of four friends and we came together and realized people were just coming out and were not there with their fitness. And I think it was a great time to start because there were less cars on the road. So we said, let's pick out bicycles, map out a safe route where we can ride, do some exercise, socialize and you know have a little fun while exercising. Then we invited some friends. 
The next Saturday, those friends invited other friends and you know it turned into a regular thing. Every Saturday since then, we've always had our rides. Like I said, the main drive behind it is we are just looking to encourage the cycling culture around us. In this part of the world, it's like a fun way to keep fit and it's actually a very healthy culture that we feel like everyone should have.
This is despite the fact that our environment, to a very large extent, doesn't really support this, in terms of the infrastructure; and there is a lot of enlightenment that needs to go round in terms of road safety, and understanding how to share the road and things like that with other road users, with other vehicles.
OO: Since you started the club, what do you think was the biggest challenge you and the team have encountered?
SA: I think what I would call the main challenge would have to be safety, which is a key part of the message that we preach. As a club or as a community, we are big on safety. In fact, I think with every or any form of mobility or transportation, safety is actually the primary watchword there right? Talk less of you now being a cyclist, especially in an environment where that isn't even the main culture; safety has to be your watchword.
You get on the road with your bicycle, you are literally the smallest guy on the road. It is not as safe as being in a vehicle or even being on a motorbike or in a tricycle; any little hit will have you make contact with the bare ground. That is why we always preach safety; we tell you that no matter how short the distance you are riding is, try to have your safety helmet and gloves on. Also, avoid riding when it is dark because even though you say that you can see where you are going, how are you sure other road users can see you? And if you are in that kind of situation, make sure that you are visible.
So, I think the main challenge is still safety because it is not only about you keeping yourself safe. It is about the knowledge that the other road users have. Do they know how not to drive very close to cyclists? Do they know how to share the road with a cyclist? Do they know how to keep a safe distance from a cyclist and all that? So, I guess that is the main challenge we've faced.
OO: What do you think the Lagos government can do to make cycling around easier in terms of safety and all?
SA: So, I think as the government, they are literally responsible for infrastructure. So, that is the first place I will go to, making the right infrastructure available. I get how Lagos is, in terms of the population, density and all that but when you are constructing a new road, or you're redesigning a road or whatever, there should be provisions made for safe pathways, for cycling, especially if it is in a residential area.
The government could also play a role in strictly enforcing the road traffic laws and also making them encompass cyclists. And when we even say cycling, cycling falls under the non-motorized transport system, so it is in a close category with pedestrians also. So, it is almost the same thing. You should be able to see these laws and implement them in a way that people know they are safe while they are on the road. They don't have to be in a car for them to feel safe, they don't have to be in a bus to feel safe. I could be a pedestrian and feel very safe, I could be a cyclist too and know that okay, this space is my space. I am not going to have what we call okada face me in the opposite direction or be dragging this space with me because it is supposed to be my safe space. So, even when you are doing things like traffic lights and all that, they should also consider these things.
We see it in a few places. I know there are some cycling lanes in Ikoyi; I think in Lagos Island also. That is a good step I guess but we can have it in more places especially as we see road construction going on around in many places; we should see that there are provisions for these things. Also, speaking on infrastructure, we need to see bicycle parking spaces in public areas. In parks, at bus-stops. We have a lot of bus-stop construction that were completed pretty recently. The railways that Lagos State is launching, the BRT bus parks. you need to push this message that says 'Okay, for the last mile, you can pick up your bicycle from your house'. They brought the bus-stops closer to you right? So, Instead of them having to still board a motorised transport system, you could pick up your bicycle from your house, get to a bus-stop, and safely park your bike. Then, get on a bus and go wherever you are going. Then, also come back and meet your bicycle.
You see a lot of scenarios now, whereby somebody wants to go to a bank, mall, or the market, maybe to pick up something. They are not carrying anybody, they are not carrying bags, they are not carrying so much load and they have to go in an SUV or even a car, which is unnecessary. Especially if you have a bicycle or you can cycle, that's unnecessary. You are not carrying anybody, carrying anything, why are you filling up the road and burning fuel?
This applies to banks also. As a cyclist, I have to think twice if I say I am even going to the bank. Or I say I am going to a store to get something and I know that I will have to leave my bicycle outside. There is nothing safe for me to even attach it to. Even if I lock the wheels, like how most cyclists do now, somebody can pick it up and run away with the whole thing and figure out how to break the lock later. I know the Ikeja City mall set one up, they still have that. So you will still see bicycles that are packed there. People cycle to the mall, do their thing and leave.
Another space would be enlightenment, public enlightenment. Pushing out messages and enlightening people about the benefits of cycling, enlightening people on road safety and how to share the road. So, yeah that's another way the government can come in and make it a safe space for all.
OO: Where is the farthest place you and your club members have cycled to?
SA: I think that would be Ibadan. So it wasn't even just my club members, it was like a joint community of clubs in Lagos. So, yeah. There was a time we did from Maryland to Ibadan. Yeah, I think that's the farthest. Within Lagos, I think we've done maybe Ikeja to Lekki or Ikeja to Ikorodu and back. I mean, I don't know which one is the farthest anyway. So, there has been Ikeja to Lekki and back, Ikeja to Ikorodu and back, and then there is the Lagos to Ibadan which is like the longest. Also, Sagamu interchange to Abeokuta and back to Shagamu.
OO: You mentioned the community of cyclists in Lagos. How often do your club and other clubs collaborate or cycle together?
SA: That happens pretty often. Especially when we are doing rides that have to do with raising awareness, or positive causes. Raising awareness for road safety, on days like World Bicycle Day or even when any of these communities are doing their anniversaries or something. There are a lot of those collaborative rides that we do. A good number of them are partnerships with foundations. So, a foundation could invite a number of clubs, especially if they want to have cyclists in their campaigns or in their awareness programme. They could invite a number of clubs and we are always excited to come together and do something positive.
OO: How big is the cycling community in Lagos?
SA: The cycling community is rather big. I am not sure how to quantify it but I know we have communities in different areas of Lagos. We have about two or three on the Island, VI, Lekki, and all that. We have maybe another two to three in the mainland axis around Ikeja. There are communities around Surulere, Stadium axis. There are communities around Alimosho axis, there is a community at Ajah, in Abraham Adesanya Estate. There are communities here and there. There is one in Magodo also. So, yes. I would say it is rather big because we have clusters that do their thing in different areas in Lagos.
Even if you go outside, you will see a lot of cyclists today. Within the last two to three years, we are seeing a lot of bicycle delivery startups also. We are almost seeing more bicycle delivery personnel than even the dispatch riders that we've always been used to. I mean, they are part of the cycling community too.
OO:How do you differentiate your club from others in the market? What makes yours unique?
SA: So, I think two things that make City Cyclers unique would be one, we are very big on the community aspect of what we do. I think a lot of people would argue that we focus more on the fun than the cycling aspect. So, we make sure that even if you are just with us for just a day, or just a weekend of cycling, you will have the best experience ever. Two would be that we are big on the grassroot aspect of it. A lot of people who cycle with us learnt how to cycle with City Cyclers. We have people who learnt afresh, like they picked up a bicycle for the first time and started riding and they are cycling interstate. We are big on that training part of what we do. We have a training school with experienced tutors that teach adults how to ride a bicycle within the space of about four weeks and they are able to get on the road. Those are the two things. We've had great friendships, amazing business partnerships come out of what we do. We've had people who relocate and they are able to link up with a City Cycler in whatever part of the world they are in. I mean we have people in Canada, UK, US, and Japan. So, we are big on that community.
OO: How many members do you currently have?
SA: We currently have over 50 community members.
OO: What do you think makes it hard for people to join your club?
SA: I think it is for people to cycle in general. It is not about joining which club or which community. It is about actually convincing people that you can actually ride safely on the road. There are ways whereby you can keep yourself safe. Getting them to understand this and also showing them when we do. Getting them to overcome the fear of the road. I think that's the main challenge; people don't have this road confidence. Getting people to gain that road confidence is probably one thing that could be challenging for people who want to be in a cycling club or a community.
OO:What advice would you give to someone who is interested in cycling?
SA: I would advise them to take it a step at a time. I will also tell them how exciting and thrilling the experience can be. You know, get your first bicycle today, your first helmet today, and all that, enjoy, ride your first kilometre today. Like with any other fitness activity, you need to understand your body and limit. I will just tell them to take it one step at a time and make sure they enjoy the experience.