---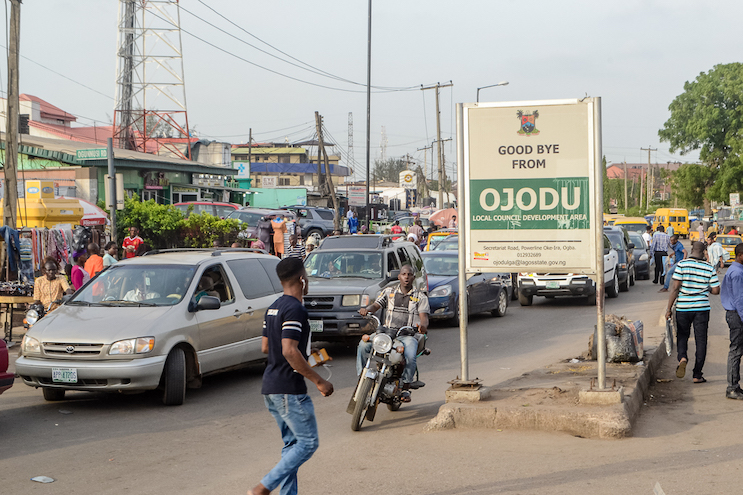 Ojodu is a border town that straddles Lagos and Ogun states. The Lagos end is administered by the Ojodu Local Council Development Area, one of the local governing units created by the Lagos state government in the early 2000s.
The communities in this LCDA are categorized into six wards. Ward A is for the Ogba and Oluwole community, Ward B covers the Aguda area in Ogba, Ward C extends to the Oke-Ira axis, and Ward D covers the Powerline area.
Ward E is centred around the Akiode axis close to Omole Estate and Agidingbi area, while Ward F covers the Ojodu Berger and Yakoyo area.
The headquarters of the Local Council Development Area is located at 1-3 Secretariat Road, Powerline, Oke-ira.
The LCDA is currently chaired by Segun Odunmbaku, who recently marked two years in office.
Trade and market in Ojodu
Alhaja Abibatu Mogaji Sunday market is known for its household items, including foodstuffs, fruits, and vegetables. This market is located along Wemco Road, and is open all week. On Sundays, you can shop for fresh vegetables, dairy products, seafood, fruits, and other foodstuffs at bargain prices.
The newly opened Ogba Multipurpose Shopping Complex, which is close to the Sunday market, is currently one of the largest malls in the area. It hosts different stores offering services such as clothing, home accessories, and electronics.
Ogba Retail Market is another trade hub in the Ojodu LCDA and it's close to the Ogba bus motor park. Shops selling clothes, foodstuffs, home appliances, and more can be found in this market.
There is also the LSDPC Ogba Shopping Arcade on Ijaiye Road. Jewellery shops, consulting firms. Hair salons, boutiques, children's stores, a bureau de change and others are among the other stores in the LSDPC Shopping Arcade.
Education in Ojodu
Public schools within the Ojodu LCDA include Estate Primary School, Ojodu Junior Grammar School, Ogba Primary School, Ogba Junior Grammar School, Babs Fafunwa Millenium Senior Secondary School, Agidingbi Grammar School, Omole Senior Grammar School, and Oke Ira Primary and Secondary School.
Sports in Ojodu
The Ojodu LCDA has a football club called the Ojodu LCDA Football Club.This club competes with other LCDA clubs, and also at the Lagos Junior League tournament.
Health-care in Ojodu
Ojodu Local Council Development Area has six Primary HealthCare Centers (PHCs) in all its six wards and a staff clinic in the council's secretariat.
Apart from the Ojodu PHC which offers 24-hour clinic services, all PHCs in the LCDA offer only eight hours of medical services in a day.