---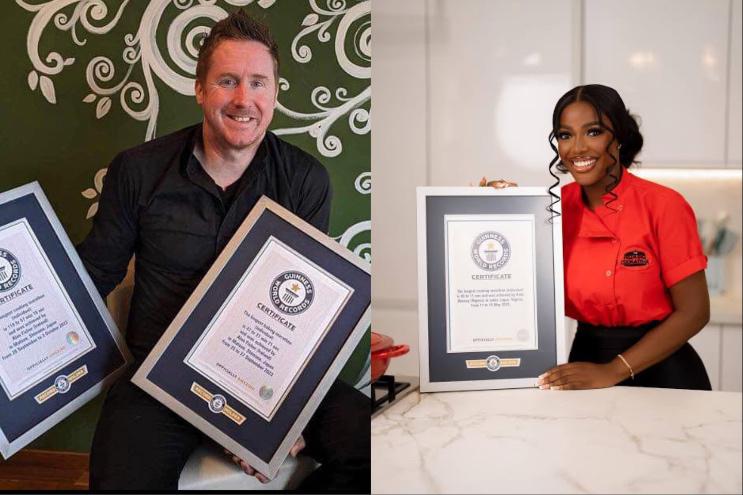 On November 7, Alan Fisher, an Irish restaurant owner, set a new Guinness World Record for the longest individual cooking marathon, lasting 119 hours and 57 minutes.
Fisher surpassed the previous record held by Nigerian chef Hilda Bassey, also known as Hilda Baci, who cooked for 93 hours and 11 minutes at Amore Gardens in Lekki, Lagos, from Thursday, May 10, to Monday, May 13, 2023.
It is no surprise that many aspire to earn a spot in the big Guinness World Record book, seeking recognition for remarkable achievements.
Before Bassey received certification from GWR for surpassing the prior record of 87 hours and 45 minutes held by Lata Tondon of India in 2019, there was an avalanche of cooking marathons in Nigeria aiming to surpass Bassey's record.
In an interview with CNN, Bassey suggested that she initiated a trend among Nigerians attempting to break Guinness Records. She remarked, "On social media and in the news, everyone is just seeing people trying to break Guinness Records."
Several unconfirmed attempts were made to break Bassey's record. For instance, Damilola Adeparusi, a chef from Ekiti known as Chef Dammy, claimed to have cooked for 120 hours, but her attempt was invalidated by GWR due to failure to follow the proper application process.
Another chef from Ondo, Adeyeye Adeola, completed a 150-hour cook-a-thon in July, but there was no confirmation or certification from GWR.
Chef Temitope Adebayo from Ogbomoso announced plans in July, to undertake a 140-hour cooking marathon starting in November 2023.
Some individuals believed the rush to break the record set by the Lagos-based chef was unfair and unprofessional, leading to speculation that one could only attempt to break a Guinness World Record a year later.
However, GWR addressed these concerns on X (formerly Twitter), stating that the rule requiring a year's gap before attempting a new record was merely a rumor. They clarified, "Records can be broken anytime!"
This tweet sparked reactions from Nigerians, with many accusing GWR of seeking attention in the way they announced the "dethroning" of Hilda Baci.
Here are some of the reactions culled from X (formerly Twitter):
@Wandyliciouss wrote, "This isn't how you announced Hildas win. There was no mention of the other lady, but you wanted to still profit from our heartbreak."
@sayo_law, "You lot are way too excited to announce this."
@__fregene tweeted, "Why did you now put her name first, to get impressions Abi?"
@Amowe0 wrote, "eiii so why didn't you debunk the rumor when it was being shared around?"
@therealbelano tweeted, "Who lied to us then? We are coming back for it."
@doeminoe, "Is that the scent of clout-chasing in the air or I'm mistaken??? Because you could have easily made this announcement without referencing Hilda or using the phrase "dethroned."