---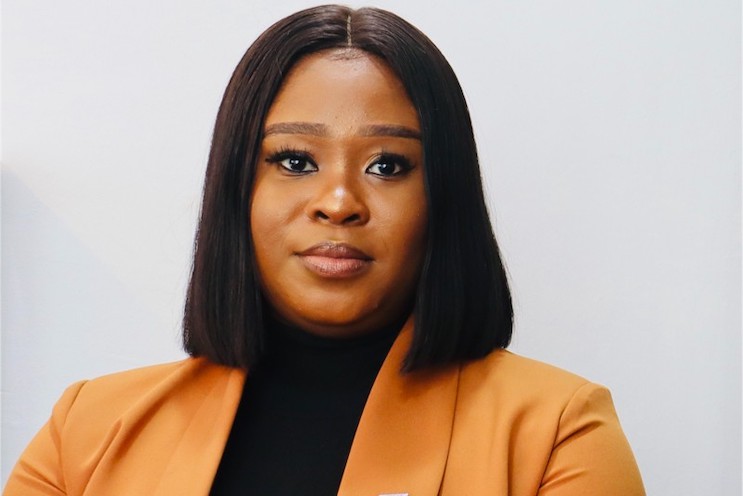 After moving to the US, Stephanie Adesanya, with a background in engineering, got involved in volunteering and social work. When she returned to Nigeria, she continued in the nonprofit sector as the Director of American Corner, Ikeja. In this interview with The Ikeja Record's Omon Okhuevbie, Adesanya speaks on the impact of her work with the American Corner and what young people can do to optimise for success.
This interview has been edited for clarity and brevity.
---
Omon Okhuevbie: How has the American Corner grown under your leadership?
Stephanie Adesanya: The American Corner has grown significantly over time since managing the space. I started when we were still in Yaba, but we moved in 2021. Now, we have a building to ourselves. More space, more opportunities. So that's one of the growth areas.
In terms of community, we've also grown tremendously. So, we used to serve the Yaba populace before moving to Ikeja. Now we serve Ikeja and beyond because we found out that a lot of people from that axis (Yaba) still come all the way here as a result of the resources and things that we offer. Whether it is programmes, whether it is resources, they still find their way down here. So, we have been able to move and appeal to a larger audience. We see these people coming in search of knowledge, in search of digital skills, in search of resources like books, the e-library, to make use of it to grow themselves, to grow their lives and to make an impact in their communities.
The American Corner has also grown in terms of membership; our membership base has grown 4x compared to when I initially started. In terms of programmes, we do more as well. Compared to when we started, we used to do about 20 programmes per year but now we are doing over 50 programmes per year and this also includes our shared programmes across all the spaces.
OO: What programs do you run at the Centre?
SA: The American Corner is a community centre, a resource centre. We provide access to free resources for members of the community. Whether it is resources on how to process their study in the US, how to study for exams in preparation for US study or getting to know more about the five steps to study in the US; useful information about the United States can be gotten from the Corner.
We have an e-library that people can access and download resources from. We also have physical books people can access. They can walk into the corner and borrow our books.
We have programmes that we run, a lot of programmes. We do over 50 programmes yearly and these programmes cut across culture and technology, including skills development in product design, UI/UX and software engineering.
We have conversations with alumni of US sponsored programmes such as YALI, the Mandela Washington fellowship, IVLP and Fulbright.
We have 'Speak with a diplomat', where diplomats with the US mission share their perspectives and experiences on a range of issues.  
OO: What differentiates American Corner Ikeja from other similar organisations?
SA: The American Corner Ikeja is a hub where young people can visit to achieve their dreams and actualise their goals. We have seen a lot of young people who are clueless, permit me to use that word, who walk into the American Corner Ikeja and they get to dream. After interactions or being a part of the community, we get to see changes and they get to start doing things that have meaning and can also impact their communities. It is a place of hope and a place of engagement for these young people.
It is also a workspace; people come here to work every single day. There is constant electricity, there is a conducive environment. It is a wonderful environment; we have an American look and feel that makes you think that you are in America. It is America in Nigeria. So, this stands us out, differentiates us from similar organisations that may be around the area.
OO: What would your community say is the best thing about the Corner?
SA: I think what our community would say is the best about the American Corner Ikeja is the fact that it is completely free. Some people even find it hard to ask questions because they just have a perception, and then when they make an effort to try to walk in or make enquiries and they find out that it is free, it is unbelievable, to them.
Most of them say there is something or there must be a catch somewhere and we tell them there is no catch; the American Corner Ikeja is indeed free and open and everyone has access. And of course, I have mentioned that members of our community have access to all our programmes, have access to the work space, library, e-library, maker space, and so much more. We've seen a lot of people take advantage of it.
OO: Have you faced any challenges in the course of your work?
SA: So, as with anything good in life, there have to be challenges and so with the work that we do at the American Corner Ikeja, there are challenges that we have faced and we are still facing and I believe that we will continue to face. Some of these challenges range from the location; being situated around the airport area is a little bit of a challenge.
Another challenge that I would say we face is also constantly trying to keep our community engaged. Constantly looking for how to be innovative with them and come up with innovative quality programmes that can keep them engaged in the community is also a very big challenge I face in the course of the work that we do here.
Also to add, we have challenges of 'who do we work with', working with partners, seeking partners to implement some of the work or great ideas that we have to engage the community that we currently manage. There is so much to do; we can't do everything ourselves, so we seek to partner with different organisations to help us implement some of these great ideas that we have. It could be tech training, UI/UX design training, product management training, and we are looking for a tech company to implement all these training for members of the community. So, having to screen them and check which one fits and can actually run this training successfully poses some challenges for us but of course, we always come up with innovative ways to navigate around some of these things.
Lastly, on the area of challenges, constantly getting feedback from the community and utilising that feedback to structure your work and focus on creating more engaging programmes for the community can be a challenge sometimes.
OO: You mentioned leaving Engineering to pursue social work. Why?
SA: I volunteered a lot prior to moving to the US. On getting to the US I had more exposure to the world of non-profit, studying and working in this space. And so, that actually sparked my interest; it was an exciting time, just seeing how doing a little can be very instrumental in helping people make better decisions or do better in life. For example, planning coffee events for international spouses, helping them adjust to life in the US or helping them write a resume.
OO: What is your advice to young people, especially women who are interested in leadership roles and are also seeking opportunities outside Nigeria?
SA: My advice for young people is to keep being curious and keep being open to learning. These are very important things that you need to grow. Have a thirst for knowledge, keep learning. We have so many opportunities available and we see people that don't know about it and those that know and take advantage of it. Of course, some people may not be serious and may not want to take advantage but we see people taking advantage and the difference it has made in their life. So, to young people, explore as much as possible and be very open to learning.
And for women who are interested in leadership roles, seek a mentor. I think mentorship is very key to how successful you can be. Find somebody that is doing that thing that you love, or that thing you want to do or be and reach out to them. Ask them to mentor you; if not, just keep in touch with them. Be bold, be audacious, network as much as possible, come out, meet people, attend these programmes. After the programme, network with people and you never know who would be your connection to the next level.