---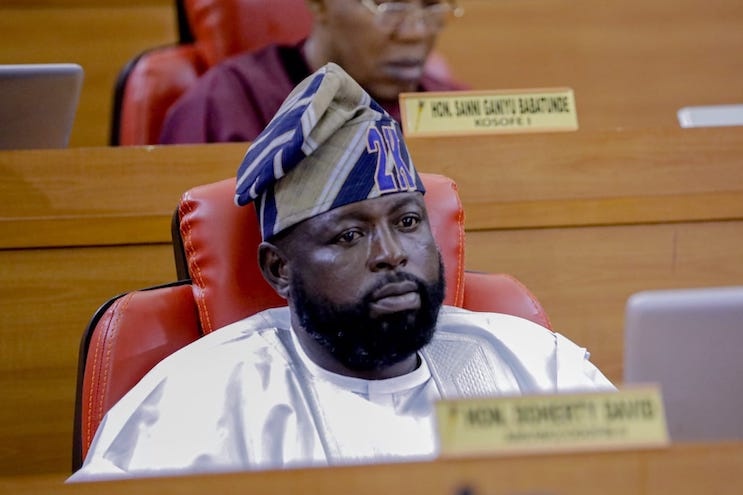 David Olukoya Doherty is the Labour Party lawmaker representing Amuwo-Odofin Constituency 2 at the Lagos State House of Assembly. In this interview with Ikeja Record's Abel Adekunle, he discusses his background, his ascension to the House and how he hopes to deliver the dividends of democracy to his constituents.
This interview has been edited for clarity and brevity.
---
Abel Adekunle: How did it all begin for you?
Hon. Doherty: Well, Doherty Olukoya David, was born into the family of Omoba Theophilus Oladele Doherty, from Epe Local Government, Igboyi-Ibowo. I was born in the early 70s. I attended Reservation Primary School, Itolu Village in Ajegunle. When I grew up, my father just decided that instead of me being brought up in Lagos State, why not go back to the village, because of the situation of things around us then in Ajegunle. So my Dad took me back to the village where I attended Comprehensive High School, Ijebu-Ife.
There, I started my career working for the community. I began to do things for the Community Development Association, and that was where I developed my political career. My dad worked in the local government for over 30 years as a health officer; he served the government and would also tell us that the future of every man is in his hands. It all depends on how you are doing it.
AA: So that means that your coming into politics is something you've always dreamt of?
HD: It's what I've always been doing. I'm a grassroot politician. If they want to register Lagos State "LASRRA Card", my dad would tell you to go and register. You want to register for a Nigerian National ID card, my dad would tell you, go and register. They want to get a voter card, my dad would tell you, go and register. Tax clearance, whatever. All those things, you begin to do them. And you begin to ask yourself what are these things for? Because my dad would always tell me, when it comes to the state and the federal, like this immunisation, that they do free for people, and some people would ignore it and at the end of the day, they will begin to use their money to do it when they find out the importance; so those things me I do them free of charge because my dad would not allow you to stay in his house if you don't do them. You have to do it. So that's the mentality that I grew up with. I have always believed that one day, I'd be part of the government.
AA: You didn't begin as a local government chairman. Why the Lagos State House of Assembly?
HD: You see, God knows how He does His things. In fact, I was serving my people right from the street. Even from my own hard-earned money, I served my people with that. I've been clearing drainage with my money, I've been paying children's school fees with my money, children that I don't even know, pay house rent for people, give widows a lot of things at the end of the year. I buy goods, I buy rice, I buy groundnut oil, give widows, all those things, just to make sure that at least they make up to their standard; I do these at least in December period; you know, any house that doesn't cook rice in December, they'd look at you that, this one is worse.
So all those things that I've been doing, I'm just doing it because I felt it was needed and it is the right thing that I'm supposed to do; God has blessed me with the little that I have, with my sweat. Don't be surprised, let me just tell you who I am. I'm a truck pusher, I push trucks. Although I have trucks of my own, trucks that make money for me, you understand; but I push a truck to Tincan, a container truck; in the night you'd see me outside. I'm doing all those things just to meet up. My children have to be well brought up, people around me have to feel my impact.
AA: When you told people that you wanted to become their representative, what was the reception like?
HD: In fact, I never really told them. What really happened was this: I met with one of the APC leaders, because there's my brother who was an APC chieftain. I've never been a candidate of APC for once; I've never even been their exco for once, I've not done it. But you know, politicians like them come to meet me; they want to do polo, they want to do this. I just give them some money, let them go and do it. But all of a sudden, Labour Party, kudos, they were looking for a candidate that they're going to use. So, somebody just told me that the Labour Party needed a candidate, and I was going to their meeting. So, we were going to the meeting, we were doing it, before I knew that they didn't even have a candidate. In fact, I've been in the meeting for like four to five months, before I started hearing they don't even have a candidate and I was like you don't have a candidate? But you've been sponsoring people, what are you waiting for? That was when I got to buy the nomination form and every other thing I needed. They did substitution primary for me so I emerged. In fact, the Labour Party was very happy when they found out I was the person that was coming out, because they knew my worth.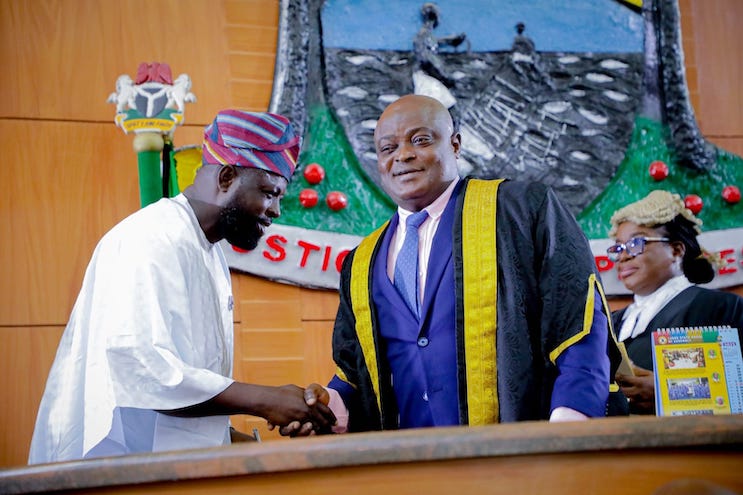 AA: What are some of the challenges in your constituency?
HD: As far as Amuwo-Odofin is concerned, not even in my constituency alone, there are no good roads. No road anywhere. The only road we have belongs to the state, which is the federal road, that is the Badagry Express road. Apart from the Badagry Express road, no road; I don't have to paint it, if I have to start telling lies, I'm just deceiving myself. You cannot carry your car to FESTAC and a bolt will not get out of place. You must lose a bolt, something must pull out of your car. In fact when I get to FESTAC I use a bicycle, I use okada, I don't drive my car anyhow, because I know how much the mechanic will take from my hand. So immediately I get to my house, I leave my car in the house; anywhere I want to go I take a bike. When people see me, they don't even believe that I am a member of the House. Some still ask themselves, is this really honourable?
Then our job market. In fact the way the market is these days, nothing is happening. So, my aim and objective in my constituency is to face the road and the school. So, what we are planning is to bring back the dividends of democracy to the constituency. Everybody is trying their best, the Lagos State government is trying, the Lagos State House of Assembly is doing its best. We'll do it the right way. With our speaker, Mudashiru Obasa – I respect him so much, he will always nurture you to do what is right, so that people who voted for you will not regret the reason why they voted for you. In fact, he was the one that even advised. He threw the advice but I picked it. He said "Leaving your constituency is even a problem to you". You know, like a general talk, he just said it, but it brings lots of meaning to me.
AA: So the Speaker is giving you the right mentorship?
HD: Yes, I'm getting it, I'm getting everything. In fact, he's a leader; he's not just a leader, he is, how do I put it, a father. Every good father will advise his child on the right path of life. He's a father.
AA: What should your constituency expect from you?
HD: Well, my constituency is my father and mother. They sent me out, they have sent me out as a son, to go and work for them. As a normal human being, you don't expect your dad when he comes back home, he'd start asking you, give me money, give me food, I want to change my clothes, I want to do that, give back what rightfully belongs to them. And that was the reason why I have my constituency office where they go, lay out problems. Then we look at the problem and know how to solve it. There's no constituency that does not have a problem to solve, even Banana Island, they have a problem. But what you give back is what rightfully belongs to them, you start solving their problem one after the other, and as you're solving it, you're monitoring that one you've solved. And anything you're doing, you should know that what you're doing should last for years, before people would be talking about it. So, dividends of democracy, what rightfully belongs to my people, my constituency must surely go back to them.