---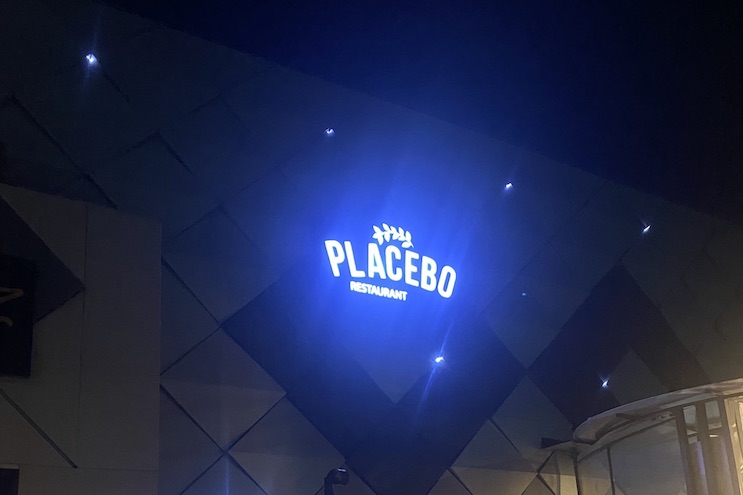 Every adult in Lagos lives for the weekends – inspired by churning stomachs, wholesome friendships, and vulnerable conversations.
Hungry for both food and exceptional experience, my friend and I found our way through the winding roads of Magodo one recent weekend. The journey started on Instagram, where we had to figure out where to dine out. We decided on the Placebo restaurant, for reasons I am sure we both do not remember.
The Placebo was easy to spot – the italicized white signage shone as it sat beautifully against the black-tiled walls. First, one sees a 'quick fix' Shawarma stall, then the bar.

We asked directions from the security guard; he pointed us toward the actual restaurant. We descended a flight of stairs. Below, there was a backdrop with 'The Placebo Restaurant' etched on it, carefully embroidered with flowers and perfect for pictures. A subtle reminder of some 'About-to-Wed' setting. Super cute for Lagos romantics.
Inside the Placebo restaurant, the walls are painted white with patches of black and white patterned Aztec designs on the ceilings. There were only six tables – each with a plastic cactus on it alongside a milky-colored long armchair and two single seats of the same color.
We sat closest to the counter, yet two waiters scampered around for over 15 minutes but were nowhere near our table. I walked to the counter and asked for a menu which still did not come until there was another reminder. Whew!
At some point, we wondered if we should have maneuvered the streets of Ikeja to our second option on Instagram, but it was dusk; and we were hungry. So, we chose to have a little faith.
A few banters later, one cheery waiter sauntered towards our table armed with food and drink menus. We made our choices and dared to ask her when we might be served. Dared, for real.
She threw her head back, ruminated briefly, and confidently blurted "25 minutes". We laughed right back. But true to her word, she was only two to three minutes late. That was such a rate booster!
Then to the food. There was a bit of 'anxiety', although we had selected typical meals for Lagos cuisine – French fries with chicken wings and goat meat pepper soup. But the food tasted good, much better than we expected – the right amount of everything, especially after the initial reception and a quick restroom break.
Oh yes, the toilet is a worthy mention. The space seemed a bit upturned, and stalls had no gender signs. I still have no idea if this is in line with the clamor for inclusivity or just sheer oversight.
Dinner at the Placebo was not a bad way to end the night; on a scale of one to ten, it's a solid six.