---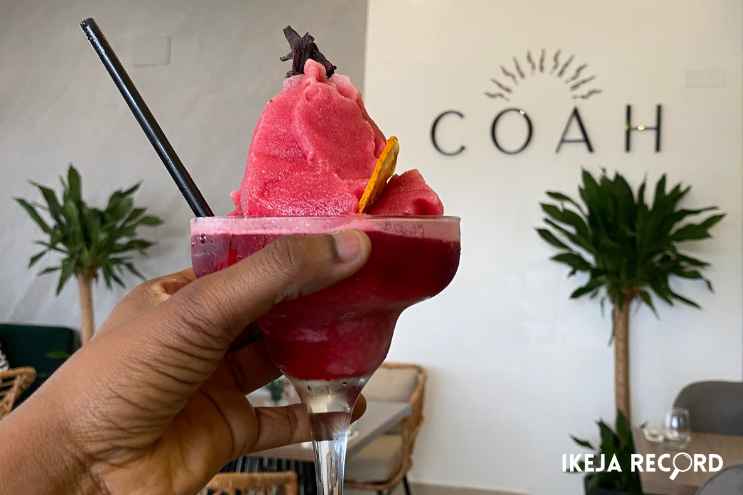 Coah Lagos is a restaurant you can't miss on the busy Lateef Jakande Road, as it is opposite the popular Big Treat fast food chain.
The first time I saw the Coah storey building a week ago, I thought it was a shopping complex because, on the top floor, you can see an array of travelling boxes from the transparent glass windows. The upper floor is a store, while Coah takes its residence downstairs.
When I pushed open the doors of this restaurant, the soft melody of a sophisticated blend of soul, funk, and jazz music greeted me before one of the waiters walked up to me. The interior of the restaurant made me understand why this restaurant is slowly becoming Instagram users' favourite mainland spot because I instantly fell in love with Coah's greenhouse decor, the mirrors and its cool ambience.
Once I was seated, a waitress promptly welcomed me and gave me the restaurant's menu. Before I came, I had already gone through their menu which I saw on their Instagram page but I was still indecisive on what to order. The waitress politely answered all my questions about the meals and the extra things they entail. Unlike, other restaurants' menus where the cost of each meal is included, Coah's menu has a decimal point number in front of each meal.
"What does 6.0 mean?" I asked the waitress. She explained that it was an abbreviated form of the cost. "4.5 means N4,500, 9.0 means N9000," the waitress said. As much as I love innovation, the abbreviated meal price was confusing.
I decided to go for Coah Zorbet drink as my appetizer which is a frozen combination of zobo (hibiscus leaves) drink and strawberry juice. The price of the cocktail and mocktail drinks on their menu ranges from N5,500 to N6,500.
My drink was brought to my table after 20 minutes of waiting. While I was sipping my drink and waiting for my main meal to arrive, I was wondering if customers troop in every day.
It was quite easy for the waiters to attend to customers because of the slow influx of people coming into the restaurant. When I came in, I met a couple occupying one table, and two ladies sat at another table enjoying their meal. However, the two ladies left a few minutes after I got in, and then it was just the lovebirds and I in the restaurant.
A few minutes into my main meal, a trio of friends came in and then two ladies also walked in. I love the fact that as soon as these visitors arrived, a waiter was quick to attend to their table.
It took about 20 minutes for my main meal to arrive. I ordered plantain waffles from the brunch menu. The waffles came with scrambled eggs, two slices of turkey bacon, two sausages and a cup of chilli sauce. I loved the taste of the waffles because they had a hint of banana, which is probably because of the plantains in them.
Is this the best brunch spot in Ikeja? #IkejaRecord pic.twitter.com/ckdca2VOrW

— Ikeja Record (@IkejaRecord) August 22, 2023
I also realized why I mostly saw pictures of their brunch meal on the online reviews which might make you think they only have a brunch menu. The other dishes on their main menu are pricey; the most expensive meal is their Coah rice bowl which cost N21,000 and even a small sandwich cost N13,000.
While seated, I overheard one of the guests ask if she could see pictures of the meals before ordering because she didn't want to order what she wouldn't eat. The restaurant should consider this as an option, and upgrade their menu with pictures of each meal on it, instead of the abbreviated price tag.
As soon as I was ready for dessert, I informed the waitress and also asked for my food to be packed because I couldn't finish it. It was packed at no extra charge. Their dessert menu indicated vegetarian, gluten-free and dairy-free options. It also included particular desserts with nuts for allergies.
When I wanted to choose my dessert, I was stuck on two options, which were Zobo Gelato and Pistachio ice cream. Then, I opted for Pistachio ice cream instead of the Zobo Gelato because I had already taken a similar flavoured drink earlier.
It took about 10 minutes for my dessert to be ready. However, I was surprised to see a Zobo Gelato in my dessert cup. According to the waitress, Zobo Gelato was my choice and she would have remembered if I chose Pistachio ice cream because the chef already informed her that Pistachio ice cream was part of the unavailable desserts on the menu. I insisted that I changed my mind and chose the ice cream option afterwards but I guess it skipped her mind. The waitress returned to apologize for the mix-up.
Aside from the dessert mixup, my meal was excellent, the taste was good but I would have preferred if they had little salt and pepper bottles on the table.
Budget
Since I was working with a N20,000 budget, my Coah Zorbet drink cost 6,500. The Plantain waffles cost N9000, while my dessert, Zobo gelato cost N4,500. I got charged for consumption tax and VAT, which was N1,275.09 and N1,912.50 respectively.
Recommendation
I would like to visit this restaurant again with my friends because it is an ideal place for brunch or a lunch date. This spot is perfect for a family outing, birthday dinner and lunch party, or a casual and romantic date. Their staff are also courteous, attentive and friendly, which is one thing I always look out for when I eat out. Their food portion is also generous and it was filling.
Rating
7/10.